Date
Sunday August 25th, 2019
Time
See Description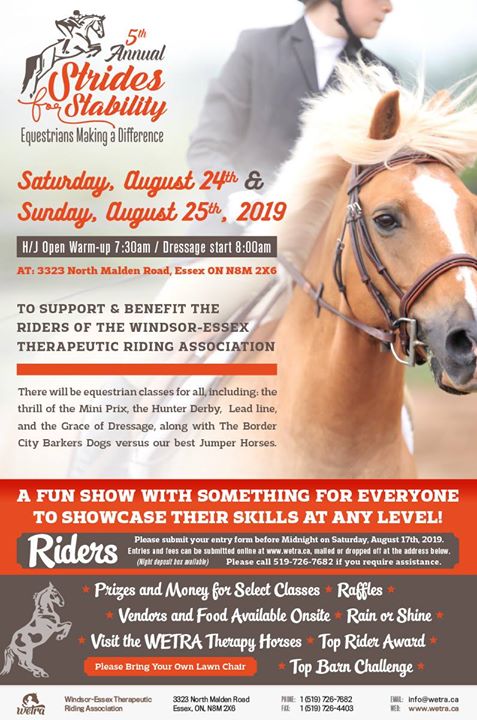 We are so excited for the 5th Annual Strides for Stability Horse Show! We hope everyone will come out for a fun show with something for everyone to showcase their skills at any level!
View the Strides for Stability Rider Guide at https://wetra.ca/wp-content/uploads/2019/05/WETRA-RiderGuide-2019.pdf
Get event details and submit the entry form at https://wetra.ca/event/strides-for-stability-horse-show/
When: Saturday, August 24 & Sunday, August 25th, 2019
Where: Windsor-Essex Therapeutic Riding Association – 3323 North Malden Road, Essex ON N8M 2X6
Event Details:
• There will be equestrian classes for all, including: the thrill of the Mini Prix, the Hunter Derby, Lead line, and the Grace of Dressage, along with The Border City Barkers Dogs versus our best Jumper Horses.
• Prizes and Money for Select Classes
• Raffles
• Vendors and Food Available Onsite
• Visit the WETRA Therapy Horses
• Top Rider Award
• Top Barn Challenge
• Rain or Shine
Riders:
• Deadline to submit entries is midnight, August 17, 2019.
• Entries and fees can be submitted online, mailed or dropped off at 3323 North Malden Road, Essex, ON N8M 2X6. Night deposit box available.
• Please call 519-726-7682 if you require assistance.