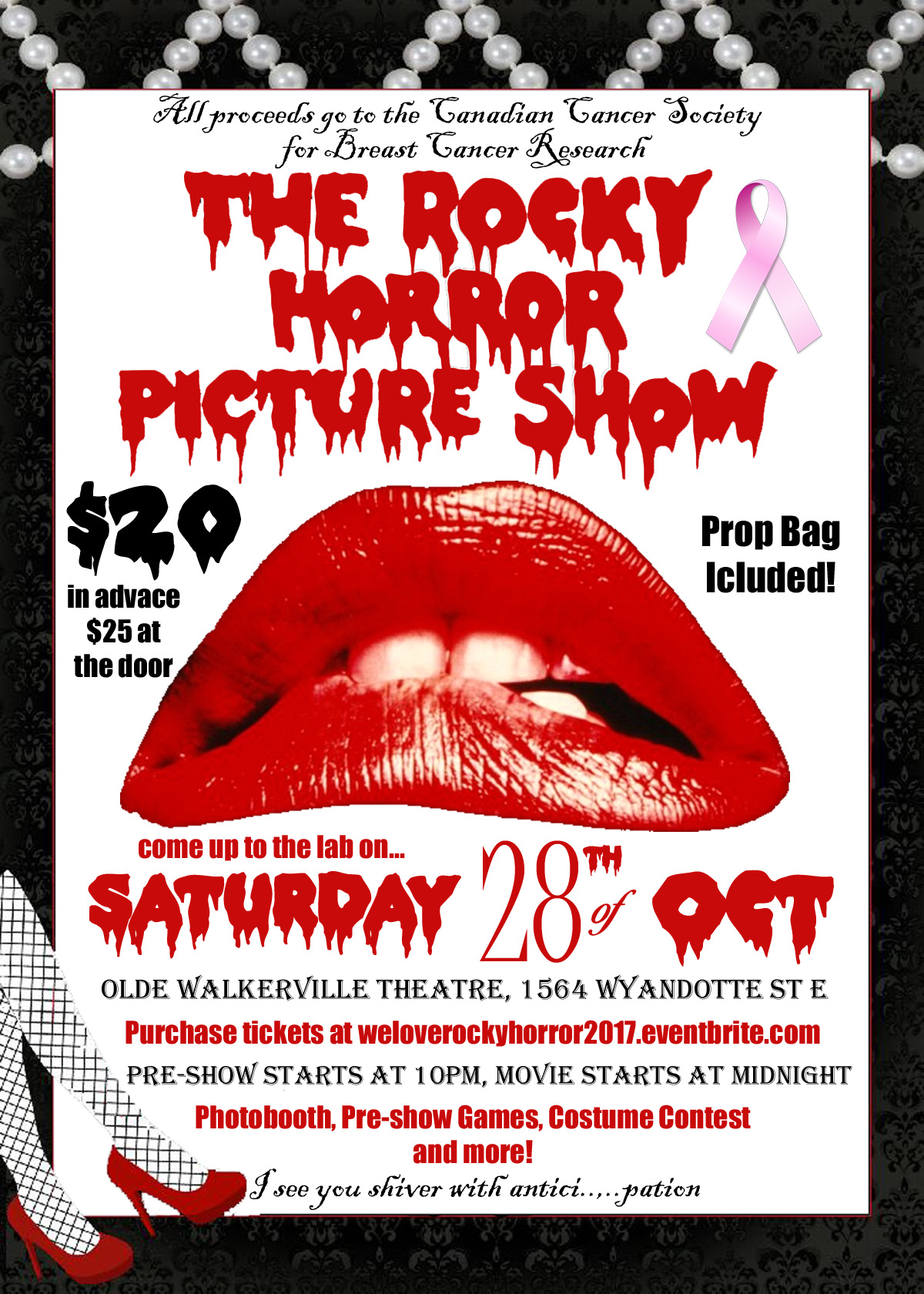 We're bring The Rocky Horror Picture Show back to Windsor-Essex for a 5th year! Come out to The Olde Walkerville Theatre and see what's on the slab! Saturday October 28th at midnight (11:59pm). Seating and our pre show starts at 10pm. All proceeds from ticket sales and ribbon sales will go towards the Canadian Cancer Society for Breast Cancer Research.
Tickets are $20 in advance and $25 at the door. Each ticket includes a prop bag! We also have a ton of other features!
Features:
– Photo Booth
– Rocky Horror Costume Contest
– Trivia Contest
– Time Warp Dance Competition
– Pre-Show including lots of games and prizes
– Bar and Concession
Actors, costumes (no nudity please), props, and callbacks are encouraged! This year, props are included with your admission at the door for your convenience! Virgins (those who've never been to a screening) are more then welcome! Please do not bring your own props. Always throw up and back towards the center of the audience, NEVER into the aisles, at the stage, screen or actors! Please respect other movie goers, do not call other movie goers names or throw things at other people. We also ask that you clean up your area before exiting the theater (it makes it much easier on the theater and they are then more likely to invite us back!).
Callbacks:
Don't feel that you have to memorize all of these, the most common one's are calling Janet a SLUT and and Brad an Asshole when their names are mentioned. Besides those, pick and choose a few from this list:
http://web.mit.edu/adorai/Public/rhpscb.htm
This show is rated 14, no one under 14 will be admitted unless they are with an adult.
Like us out on Facebook! https://www.facebook.com/weloverockyhorror/
Location
Olde Walkerville Theatre
1564 Wyandotte Street East
Windsor, Ontario