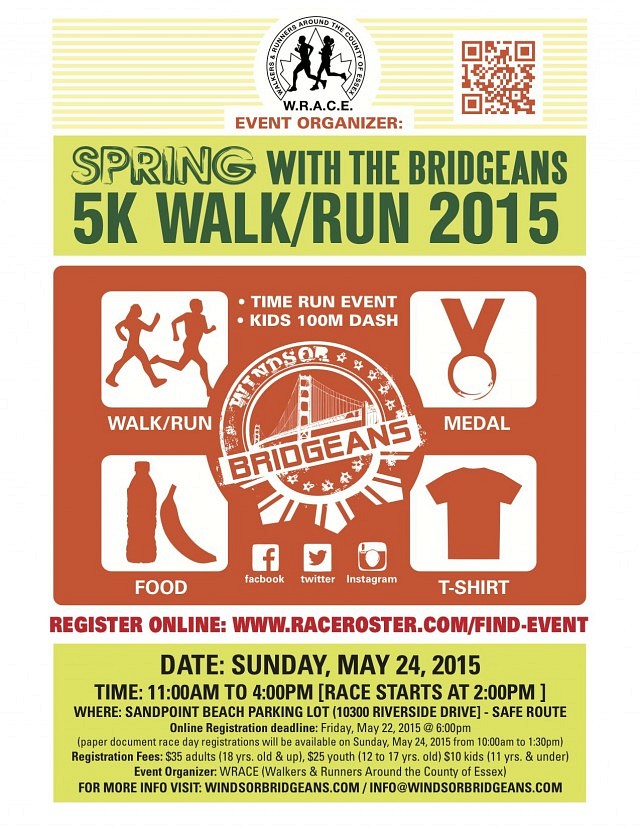 Everyone is welcome to our 5K Run/Walk event which is called "Spring with the Bridgeans".
We are a non-profit sports organization that focuses on basketball and volleyball. The Windsor Bridgeans (www.windsorbridgeans.com) will be hosting a colossal basketball and volleyball tournament on Friday, September 4, 2015 to Sunday, September 6, 2015 (Labour Day weekend). We are expecting over 5,000 people for this tournament which will be held in Windsor, Ontario. There will be cities from Canada, USA and United Kingdom such as Montreal, Toronto, Detroit, New York, Washington DC, Los Angeles, London UK and so on.
In order to fund this large event, we are having numerous fundraising events such as this 5K. Please come out and support us as we need to make this tournament a success. The location will take place at Ganatchio Trail, t-shirts and medals will be given when registered, the race will be timed and first place medal will be awarded to top 1st male and female finishers. A kids' 100m dash will take place prior to the 5K. Also, we require volunteers for the 5k. Please register immediately on Raceroster.com.
We thank WRACE for their services!
Email us at [email protected]
Like us on Facebook
Follow us Twitter
Check us out on Instagram
Website is www.windsorbridgeans.com
Location
Ganatchio Trial
Riverside Drive East
Windsor, Ontario