Date
Friday October 18th, 2013
Time
5:00pm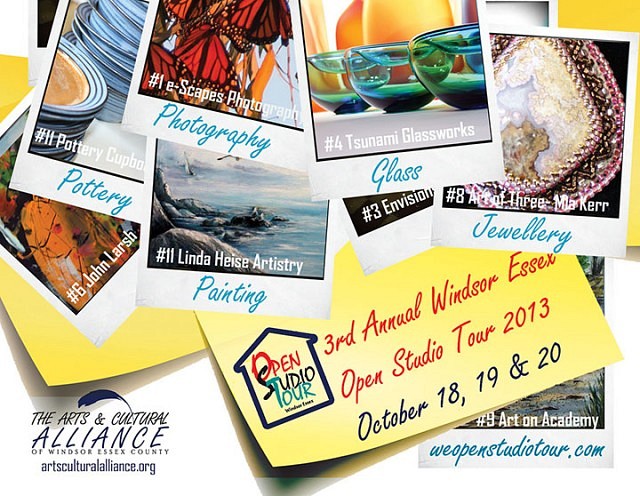 Free Self Guided Tour / Windsor Essex artists will display works of art in their studios and in exhibition spaces, inviting the public not only to see what they create, but how and where they create it. Artists will talk about their work, present demonstrations, and offer work for sale .
ENVISIONS STUDIOS IS THE #3 LOCATION on the tour across Windsor Essex. It is a combined workspace for Professional Photographer Nicole Talbot and well-known Fine Artist Dennis K Smith. This beautiful historic building is located at 992 McDougall Street between Erie and Elliot Street on the east side of the street. The gallery has invited five amazing artists to participate in the Windsor Essex Open Studio Tour 2013.
Join us to view original art of the highest calibre featuring the works of: Nicole Talbot, Dennis K Smith, Susan Washington, Carol Ouellette, John Vacratsis, Doreen Wyatt and Christine Winters Norris.
We will be open the following days:
Friday October18 6pm-10pm
Saturday October 19 10am-6pm
Sunday October 20 10am-6pm
Location
Envisions Studios
956 McDougall Street
Windsor, Ontario