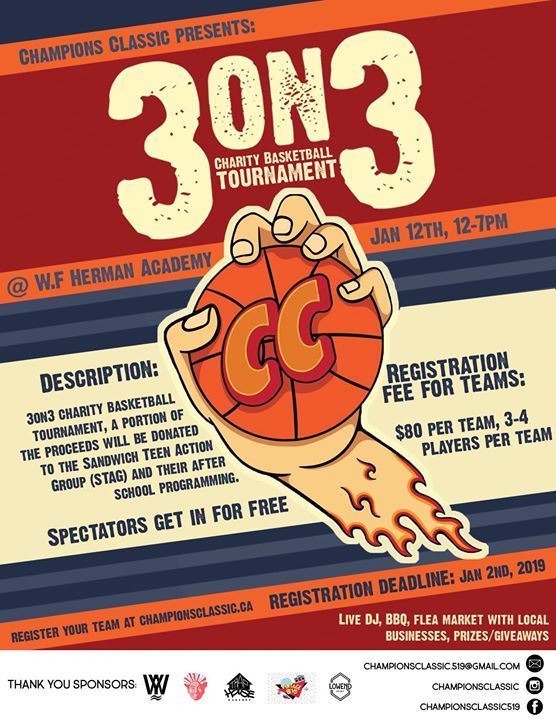 WE'RE BACK! Champions Classic presents: 3on3 Charity Basketball Tournament, our 2nd event. A portion of this tournament's proceeds will be donated to the Sandwich Teen Action Group (STAG).
It's going down January 12, 2019 from 12-7pm @ WF Herman Academy. Spectators get in for free!
Entertainment, food, music, and a unique shopping experience, ALL of this under one roof:
– Live DJ set from DJ KyDD
– Flea market with popups from local clothing brands and food businesses
– Authentic Jamaican food for sale provided by Mama's Caribbean Kitchen
– Prizes/giveaways
Confirmed flea market vendors:
– Vintage Blvd
– We Are Youth
– LowEndCo
– DREVMZ
– Russo Closet
– Just Vintage Co.
– Spice of Danger
– Soda Rose Vintage
Register your team of 3-4 players today at www.championsclassic.ca. The registration deadline is January 2nd, 2019, no exceptions.
Event sponsored by: Vintage Blvd, We Are Youth, LowEndCo, DREVMZ, and Traphouse Karaoke
Location
W.F. Herman Secondary School
1930 Rossini Blvd.
Windsor, Ontario