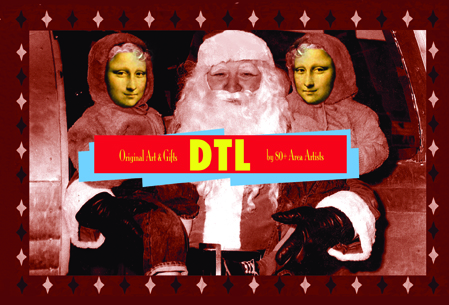 Artcite Inc., Windsor's only non-profit, Artist-run Centre for the Contemporary Arts, is pleased to present our 34th annual (!?!?) "Doin' the Louvre FUN(d)raising®™ exhibition and sale.
Featuring hundreds of artworks and gift items by 60+ area artists, at Artcite's "Doin' the Louvre" show and sale, everything is priced for holiday giving! Prices start at 99¢–with nothing over $99.99! Give the gift your loved ones will enjoy for years to come: give the gift of ART! (Or–at our crazy prices–add to your OWN fine art collection!)
ORIGINAL ART–paintings, drawings, prints, photographs, mixed media, sculpture–and artist-made gift items (garden sculpture, xmas ornaments, books, toys, cards, 'art wear', jewelry, etc.) created by established and emerging Windsor-Essex and Detroit area artists will all be exhibited "salon style" (from floor to 15′ ceiling, ala "The Louvre"), with all work priced for holiday giving!
Judy Chappus, Dan (Denial) Bombardier, Jamie Baxter, Julie Sando, Dennis Hunkler, Rashmi Dadwal, Michelle Dobrin, Adele Steinberg, Martin Stevens, Sasha Opeiko, Daniel Dingler, Susan Gold, Josie Hazen, Tony Mosna, Less Law, AG Smith, Christine Burchnall, Jeff Hasulo, Mary Anne Van Wattegham, Lorimer Artworks, Alexandre Uri, Linda Ruddock Rousseau, James Oltean, Mark Buckner, Jim Mroczkowski, Wayne Tousignant, Eric Naylor, Jean Bull, Shane Wright, Lupita Amaya, Luba Venelin, Christine Paris, Holly Wolter, Chad Riley, Michelle Emery, Sergio Mazzotta, Katherine Ross, Laura Gould and MANY MANY MORE!
Can't decide from among all of the 99¢ to under $99.99 choices?
Want something really special and expensive for that special someone?
As in past years, we are also offering our gallery visitors the chance to win valuable original artworks by distinguished Windsor artists! A $2 DTL raffle ticket could win you an artwork valued at $500-$3000! Donating Doin' the Louvre 2015 Raffle artists are: Daniel Ward Dingler, Adele Duck, Jim Mroczkowski and Wayne Tousignant.
But wait, there's more! As always, we will be featuring our vintage toy and assorted xmas doo-dads display in Artcite's festive gallery windows, to brighten up the downtown street scene!
As always, admission to the Doin' the Louvre gala reception and exhibition is FREE and open to the public!
Wednesday — Saturday: 12:00 noon — 5:00 pm
Location
Artcite Inc.
109 University Ave W
Windsor, Ontario