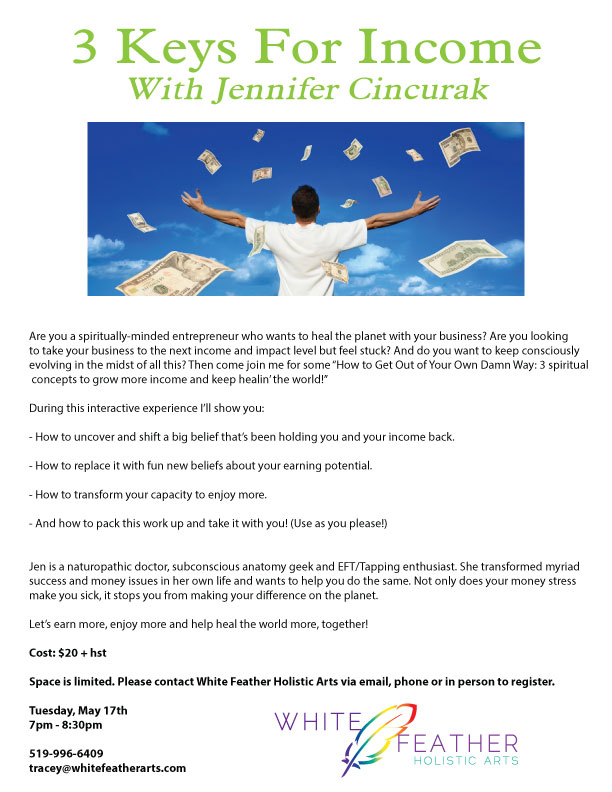 3 Keys for Income
With Jennifer Cincurak
Are you a spiritually-minded entrepreneur who wants to heal the planet with your business? Are you looking to take your business to the next income and impact level but feel stuck? And do you want to keep consciously evolving in the midst of all this?
Then come join me for some "How to Get Out of Your Own Damn Way: 3 spiritual concepts to grow more income and keep healin' the world!"
During this interactive experience I'll show you:
How to uncover and shift a big belief that's been holding you and your income back.
How to replace it with fun new beliefs about your earning potential.
How to transform your capacity to enjoy more.
And how to pack this work up and take it with you! (Use as you please!)
Jen is a naturopathic doctor, subconscious anatomy geek and EFT/Tapping enthusiast. She transformed myriad success and money issues in her own life and wants to help you do the same. Not only does your money stress make you sick, it stops you from making your difference on the planet.
Let's earn more, enjoy more and help heal the world more, together!
Cost: $20 + hst
Space is limited. Please contact White Feather Holistic Arts via email, phone or in person to register.
Tuesday, May 17th
7pm – 8:30pm
519-996-6409
[email protected]
Location
White Feather Holistic Arts
1350 Ottawa Street
Windsor, Ontario