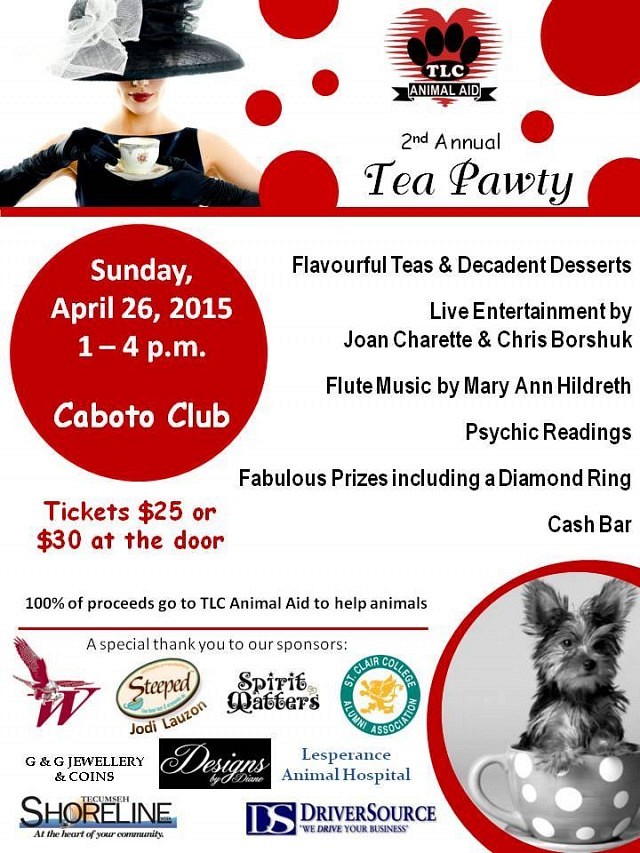 You're cordially invited to the 2nd Annual TLC Animal Aid Tea Pawty.
Join us for afternoon tea at the Caboto Club on April 26, 2015 from 1-4 p.m.
Indulge yourself and try an assortment of teas or perhaps our signature Pawty cocktail the Meow-Mosa.
Divine sandwiches and delightful desserts will be served.
Light shopping, psychics and plenty of raffle prizes to be won.
Entertainment by Joan Charette and Chris Borshuk.
Tickets are $25 or $30 at the door.
And remember, don't forget your tea pawty hat.
Tickets are available online:
https://windsor.snapd.com/#/events/view/819188
Tickets are also available at the following locations:
Pet Valu, 5060 Tecumseh Rd. E., Windsor
Pet Valu, 8420 Wyandotte St. E., Windsor
Pet Valu, 13596 Tecumseh Rd. E., St. Clair Beach
Lesperance Animal Hospital, 1046 Lesperance Rd., Tecumseh
Location
Giovanni Caboto Club
2175 Parent Avenue
Windsor, Ontario