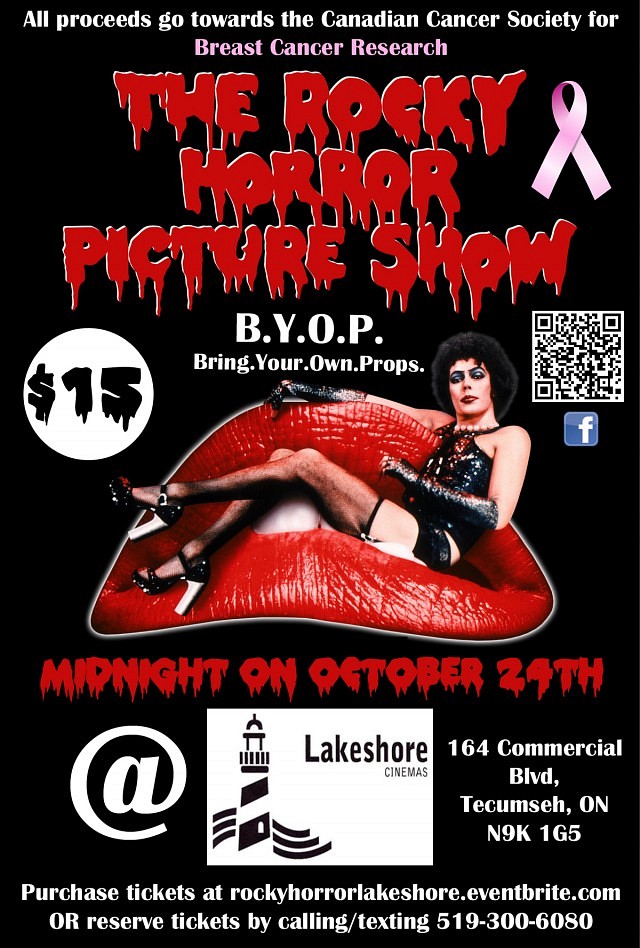 We're bring the Rocky Horror Picture Show back to Lakeshore Cinemas for the second year in a row! Just in time for Halloween! Come on out to watch The Rocky Horror Picture Show on Friday October 24th at midnight (11:59pm). Seating will start at 10pm, come early to get good seats! There will be a pre-show put on by our lovely hosts which will include a ton of interactive games and prizes. All proceeds from ticket sales and ribbon sales will go towards the Canadian Cancer Society for Breast Cancer Research. This show is rated 14A which means if you are under 14 you must have an adult with you.
Actors, costumes (no nudity please), props, and callbacks are encouraged! Virgins (those who've never been to showing) are more then welcome! There will be a costume contest for the best Rocky Horror costume, the winner will win a a very special prize.
Tickets are $15 each! Tickets can be bought online www.rockyhorrorlakeshore.eventbrite.com or can be reserved by calling or texting 519-300-6080. Tickets will also be sold at the door but may be sold out by then. This event is expected to fill up so please plan accordingly! Reserved tickets will be picked up and paid for at the theater lobby the night of, we accept cash only.
Location
Lakeshore Cinemas
164 Commercial Blvd
Tecumseh, Ontario