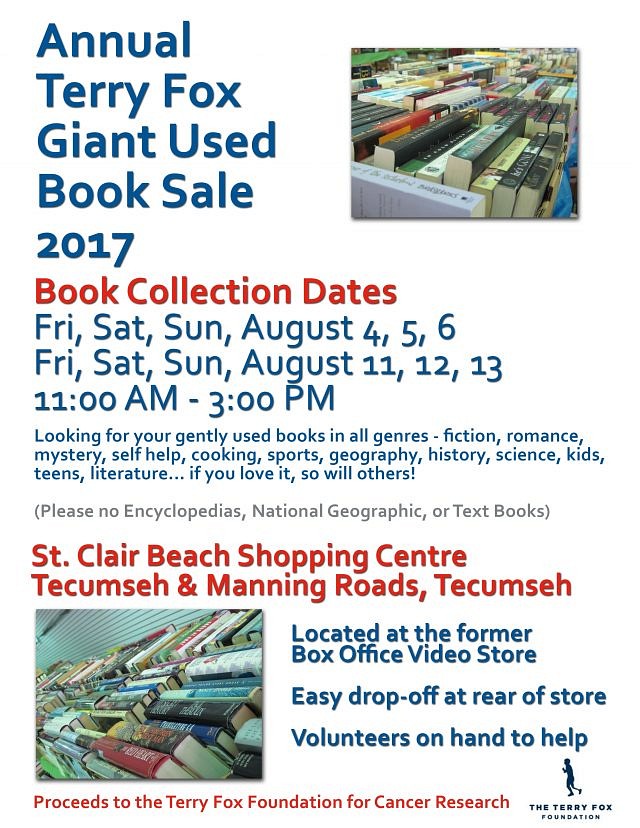 2017 marks Year 9 for the much loved and anticipated Annual Terry Fox Giant Used Book Sale – BOOK COLLECTION DAYS.
Looking for gently used books from every genre to be dropped off at our location in Tecumseh in the former Box Office Video Store, in the St Clair Beach Shopping Plaza, at Tecumseh Road East and Manning Road.
Volunteers will be on hand at the BACK of the store to help you unload your boxes on the following days/times:
Fri, Sat, Sun, August 4,5,6 and following Fri, Sat, Sun, August 11, 12, 13, between 11:00 AM and 3:00 PM all 6 days.
Please, NO textbooks or Encyclopedia sets, as these are very heavy and difficult to sell.
Please DO NOT leave your boxes and bags of books at the doors, as volunteers are available only at those designated times, and the offerings can be damaged by weather when unattended.
Location
St Clair Beach Shopping Plaza - firmer Box Office Video Store
13462 Tecumseh Road
Tecumseh, Ontario