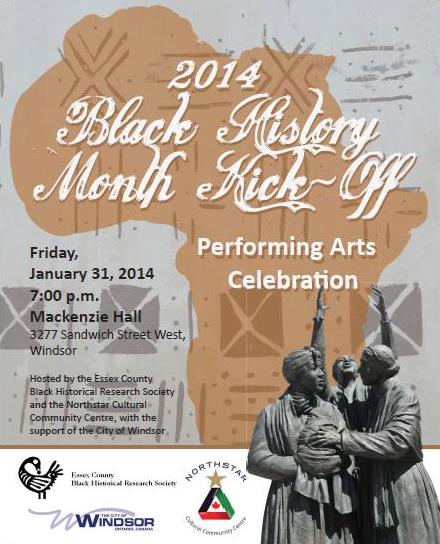 The Essex County Black Historical Research Society and the Northstar Cultural Community Centre with the support of the City of Windsor are hosting a Black History Month Kick-Off. The event is taking place at Mackenzie Hall, Windsor on Friday, January 31st at 7:00 p.m. The event is free to the public (although donations will be gratefully accepted.) The purpose is to publicly recognize the importance of Black History Month as well as to encourage the community to participate in the array of Black History Month events happening locally. This event will include:
Brief artistic performances from local individuals representing the African Diaspora,
Remarks on the significance of Black History Month and highlighting this region's Black history,
Distribution of the 2014 Black History Month schedule of local Black heritage and cultural events, and
Light refreshments.
Location
Mackenzie Hall
3277 Sandwich Street West
Windsor, Ontario