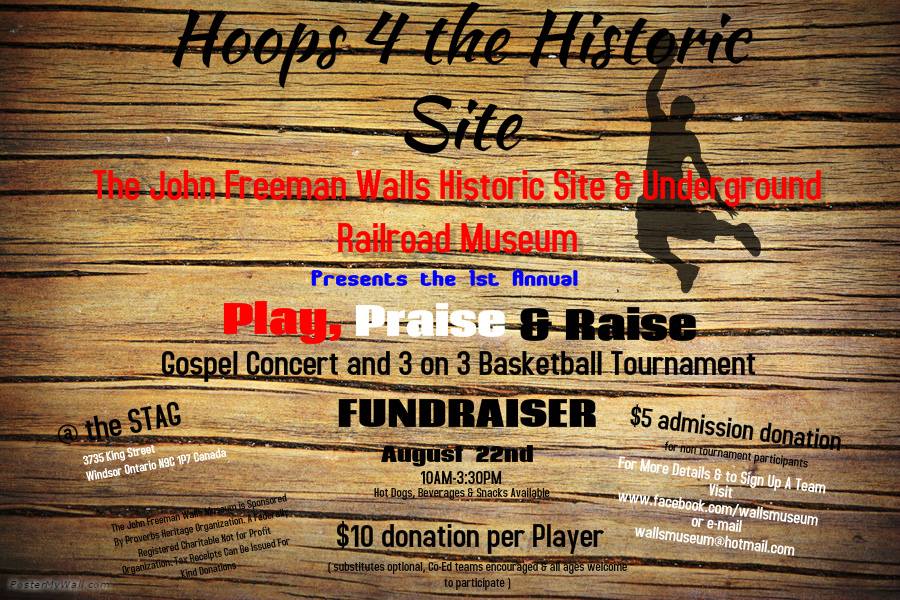 JOIN US TO PLAY, PRAISE, AND RAISE!
This August the John Freeman Walls Historic Site and Underground Railroad Museum will be hosting their 1st annual Play, Praise & Raise Gospel Concert & 3 on 3 Basketball Tournament Fundraiser. The museum is sponsored by the Proverbs Heritage Organization, a federally registered charitable, non-profit organization.
The charity event will be taking place on August 22nd, from 10:30AM-3:30PM at the STAG Community Center. It is a $5 donation admission fee (for non-basketball participants). For those who are playing basketball, it will be a $10 donation per player, and 3 people per team. There will be great voices, inspiration, food and other outdoor activities for all ages and families to enjoy!
The staff will be selling tickets in advance for those who want to sign up. There are also tickets to purchase even for those who just want to donate and support the museum. They may be contacted on their facebook page or via e-mail at [email protected]
Location
Sandwich Teen Action Group
3735 King Street
Windsor, Ontario