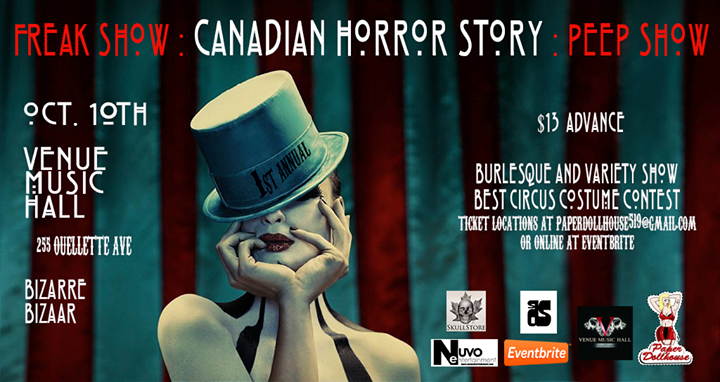 STEP RIGHT UP FOLKS!!! Come inside for a taste of the strange and unusually erotic exotics and Breathtakingly Bizarre performances from a variety of Windsor Ontario's finest performers as well as guests from Ontario. Hosted by the the frightfully funny Canadian Wolfman.
Featuring Burlesque from
Tanya Cheex Toronto
Dolly Berlin Toronto
Ruby Krueger Cambridge
MsChaos Divine Hamilton
Stella Semiautomatic Hamilton
Daisy Devine Local
Charlotte Chartreuse Local
Rosalind St. Pixel Local
Other Wildly Entertaining Performances By
Bill Nuvo , Meera and Mizz Muse, The Open Barre, Little Pearl and Man in Black, Jojo's Bizarre Circus, and of course no show would be the same without the vocal stylings of Danielle Lembke. CONTEST for the evening will be best circus costume.
$13 advance locations to be announced soon. Online at link above and Doors $15.
Dont forget to browse the bizarre bizaar.
Hello Beautiful Custom Fashion & Bridal Boutique
All the way from Toronto Skull Store
the artworks of Karen Argent
Blood Dawn
Megahn Nikitin-Mackay Fine Art
Tanya Cheex
Location
The Dominion House Tavern
3140 Sandwich Street
Windsor, Ontario