Five Secrets At Our Light Festivals
Saturday December 11th, 2021, 10:55am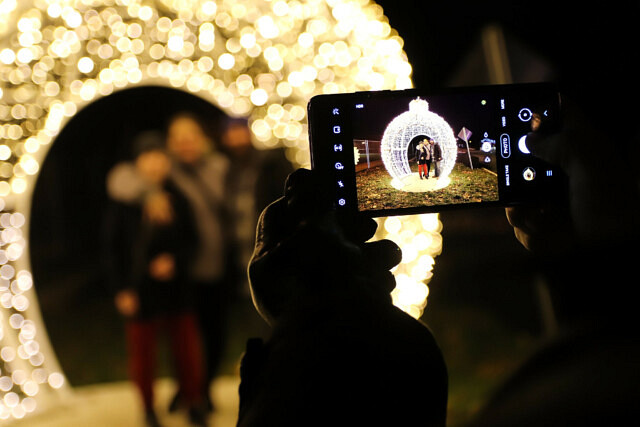 Experience the magic of the holidays!
Even as the temperatures dip and we all start to complain that our toes are cold, there is no denying that this time of year can also be incredibly magical!  Take advantage of the extended dark evening hours and check out the amazing light displays we have here across Windsor Essex.  Grab a cup of cocoa and take a nice long drive around our small towns to check out the magical light displays through the neighbourhoods and downtowns.
This year there are four huge light displays in the region – and every year they're adding new features to keep you entertained. We've put together a list of five new features you might not know about at our light festivals. These spectacular illuminations transform parks into well lit wonderlands  and create picture-perfect postcard settings and Instagramable photo opps.
So bundle up for a stroll or settle in for a drive and experience the beautiful light festivals and all the winter wonderland illuminations.  These unique holiday experiences provide a special evening for you and your loved ones to capture those perfect holiday memories so get out there and enjoy!
Through January 9th, 2022
The secret: Bright Lights Windsor has over 2 million lights, with over one million on the tree itself.  The tree stands 64 feet tall which is one of the largest in Ontario! (graphic attached)
More about Bright Lights Windsor: Bright Lights Windsor Returns to Jackson Park and The City of Windsor is excited to invite residents to join in the celebration of Bright Lights Windsor 2021.
From December 2 through January 9 Bright Lights Windsor will once again light up Jackson Park with thousands of lights and stunning displays. Lets go on at dusk through 10pm.
As part of the 2021 festivities, the City will again be hosting special programming dates including the W.E. Made it: Holiday Market, sponsored by Tourism Windsor Essex Pelee Island every Friday & Saturday (excluding December 24th & 25th) in partnership with Urban Art Market, Rose City Etsy Team and WindsorEats. Click here for more details.
AMHERSTBURG River Lights WINTER FESTIVAL
Through December 31st, 2021
The secret: Add fun to your River Lights walk this winter! Join in The Hunt for Santa's Helpers Scavenger Hunt, find the clues at some of the displays for your chance to win a fabulous Holiday Present. Download and print the scavenger hunt card or stop by the Libro Centre to pick up a hard copy. The Hunt runs until December 31. Good luck and have fun!
More about Amherstburg River Lights Festival: 100's of customized LED light displays light up the towns two main parks. Toddy Jones Park features whimsical, playful displays for the kids and the kid at heart to enjoy. King's Navy Yard Park will be home to traditional displays that showcase the warm hearted feel of the season with carolers, angels, soldiers and more. The downtown businesses are lit up for the holiday season too!
Through January 4th, 2022
The secret: Hop on Kingsville's new Kingsville Express train for a ride around the upper bowl of Lakeside Park to see the light displays. In keeping with the Windsor Essex County Health Unit's instructions, we will be taking steps to reduce gathering crowds. Please follow all guidelines and markers on site to ensure appropriate social distancing and remember to wear a mask. We appreciate your patience and cooperation in keeping our community safe.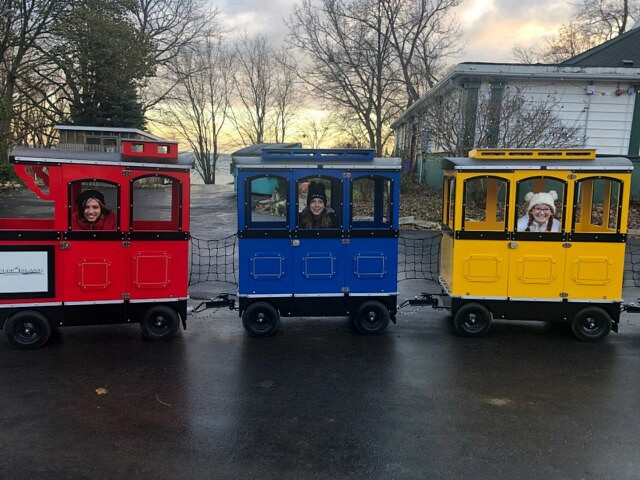 More about Kingsville Fantasy of Lights: The 29th annual Fantasy of Lights Festival has something for the whole family. Come out and join the Town of Kingsville for all of the activities, including fireworks! Ride the Express Train around Lakeside Park to take in the displays.
LaSalle Holiday Lights & Heritage Nights
Through January 9th, 2022
The secret: LaSalle Holiday Lights Heritage Nights are brand new for 2021 and features a 40-foot tall walk-through tree – and the entire display features 36,000 LED lights and 3,000 ornaments.
More about LaSalle Holiday Lights & Heritage Nights: Enjoy a new holiday light display around LaSalle Town Hall this year! Walk through our holiday light display, and celebrate our cultural heritage with food and entertainment. Support Local at our area businesses and night markets. Celebrate the magic of the holiday season with fun for the whole family.  Each weekend from November 26 to January 9 will feature Food Truck Fridays, Saturday Night Sounds of the Season featuring live music and Sunday Night Markets featuring handmade items.
Through January 9th, 2022
The secret: The beautiful Maple Leaf is a one-of-a-kind display that was made for Bright Lights Windsor. The display was built in Greece, stands 19 feet high and 20 feet wide and each piece weighs 200lbs. Windsor owns the rights to the design so they will not produce this display for anyone else in Canada!
We've also compiled a Holiday Lights Guide with maps and addresses of homes and businesses who have done the Grizwolds proud and created their own light displays and holiday décor to share with other residents.  For a full listing of holiday events happening both virtually and in-person across Windsor Essex,  visit our YQG Holiday Events Guide.
Sponsored story by Tourism Windsor Essex. For more details on Tourism Windsor Essex click their website, or visit them on Facebook, Twitter, or Instagram.
Content Continues Below Local Sponsor Message
Content Continues Below Local Sponsor Message
Content Continues Below Local Sponsor Message