LaSalle Police Looking To Identify Male After Retail Theft
Thursday March 11th, 2021
Posted at 7:33pm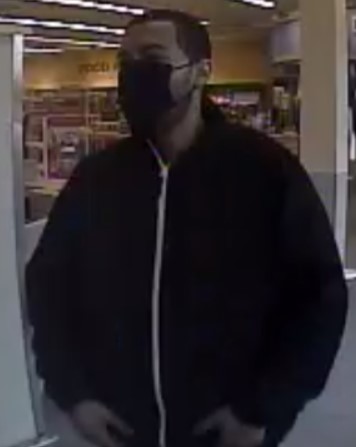 The LaSalle Police Service is seeking the assistance of the public in identifying wanted for theft.
Police say that just after 8:00 am on Monday, March 8th, 2021, the suspect entered Shoppers Drug Mart at 6020 Malden Road and went directly to the fragrances aisle.
He was observed on video surveillance placing several bottles of fragrances inside the front of his jacket before quickly leaving the store without paying for any items.
The alarm activated as the male exited the store, after which he took off running northbound toward Normandy Street.
The total value of the items stolen was approximately $2,500.
The suspect was wearing a black zip-up sweatshirt with white stitching along the zipper's length, black jogging pants with a logo on the left upper leg, black sneakers with a white stripe along the side, and a black face mask. He had short dark hair and short dark facial hair that can be seen beneath the mask and appeared to be approximately 5'9″ tall.
Anyone with information is asked to call the LaSalle Police Service at 519-969-5210 or contact Crime Stoppers anonymously at 519-258-8477.