If A Happy, Sweet, Energetic Girl Is What You're Looking For, Look No Further Bonnie Is Your Girl!
Sunday July 15th, 2018
Posted at 12:00pm
Hello time traveller!!

This article is 337 days old.

The information listed below is likely outdated and has been preserved for archival purposes.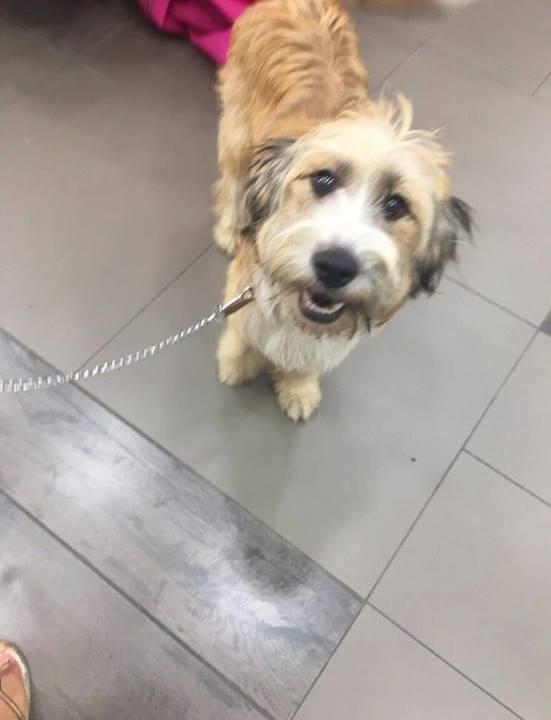 Written by For The Love of Paws:
Bonnie is a 2 year old, 34 lbs Terrier Mix

Bonnie came to us from Lebanon where she was rescued from some people who were dragging her down the street with a rope and was put in a foster home till she could make the journey to our rescue.

From her foster family,

Severe storm warning…gale force winds… close all your doors and windows and get to a safe place cause hurricane Bonnie is here! She will come at you with more love and devotion than most can handle. Is your heart big enough to take in this lovable spitfire? She's a simple girl, all she needs is room to run and someone to cuddle her once she's worn herself out. Bonnie never got the chance to be a puppy when she was younger so she is making up for it now, she is bubbly, playful and full of life. What she lacks in composure she more than makes up for in enthusiasm and unending devotion. Her only vice is jumping up, she simply cannot contain her excitement and love for you, she is smart and is learning that if she sits she will get attention but at times the temptation is just too strong. Bonnie loves everyone ( yes, if you're reading this Bonnie already loves you), she has yet to meet someone she doesn't adore, she gets along well with dogs but is very playful so another playful dog would be a great fit, size doesn't matter to this girl she will hold her own with any dog big or small. While she loves cats and would never hurt one she can sometimes be overexcited around them and chase them so a cat free home would be best. While she loves kids, Boonie is just too bouncy and may accidently hurt someone her own size. Still very puppy-like Bonnie is crated when nobody is home, she goes in willingly and after a bit of protesting settles down nicely. When at home you will have your very own fan club, wherever you go, whatever you're doing Bonnie will be there cheering you on. She is an ideal dog to take on adventures or just out in the world, it may take a bit longer as nobody can walk by this smilling girl without stoping to say hello. She loves her toys and loves to chew, she can keep herself quite busy just playing by herself throwing her toys around running through the house like a kid on a sugar rush. Once she crashes all she wants is to be right by your side soaking up all the attention you will give her. If a happy, sweet, energetic girl is what you're looking for, look no further Bonnie is your girl!
More information on how to adopt from For The Love of Paws can be found on their website.