Pot, Porn And More Seized At Windsor Borders In July
Friday August 26th, 2016
Posted at 11:43am

Hello time traveller!!

This article is 844 days old.

The information listed below is likely outdated and has been preserved for archival purposes.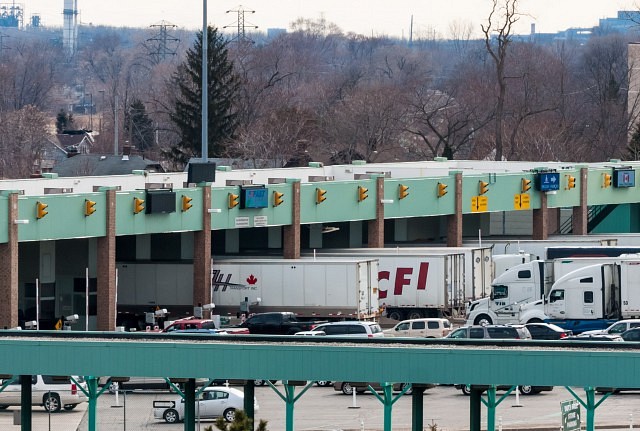 July was a busy month for customs officers are both local border crossings. Here is a list of what was seized.
Ambassador Bridge:
Five United States residents on their way to visit Niagara Falls on July 2nd were sent for a secondary examination where a revolver was discovered under the front passenger seat of the vehicle. Officers determined the 58-year old driver was inadmissible due to criminality. The revolver was seized, $1,000 was paid for the release of the vehicle and the five returned to the United States.
On July 2nd, three United States resident female (29, 43 and 50 years of age), made a wrong turn into Canada. During an examination, officers seized an undeclared handgun, suspected cocaine, suspected heroin, suspected marijuana and six bottles of alcohol. Two were inadmissible for criminality. All three were returned to the United States after paying a $2,000 vehicle penalty.
On July 3rd, three United States residents said they were coming to Canada to visit relatives. They stated they were not travelling with currency exceeding $10,000 Canadian. A secondary examination resulted in cash valued at $26,106 Canadian in an envelope in the driver's pocket. After further investigation, the currency was released to the driver once terms of release of $250 were paid. They proceeded into Canada.
On July 3rd, officers discovered undeclared currency in two brown paper envelopes in a leather bag totalling US$28,129. The two men, a Canadian resident and a United States resident, were detained for smuggling currency. Upon further investigation the currency was released after the terms of release of $250 were paid and they proceeded into Canada.
On July 8th, a United States resident was arrested for failing to declare collectible toys that he valued at $39,000 American. While searching the vehicle, several boxes containing vintage toys were discovered. He intended to sell them to a buyer in Canada. The goods were seized for non-report and will remain at the port until they are appraised and a proper penalty can be assessed. He returned to the United States.
Windsor-Detroit Tunnel:
On July 1st, a woman from the United States was arrested for suspected marijuana in her brownie loaf. The officers seized the 358 gram suspected marijuana brownie loaf and an additional 3.5 grams of loose suspected marijuana from her purse and vehicle. The terms of release for the vehicle were $1,348. She was unable to pay the penalty at the time and returned to the United States, however she did come back for her vehicle and paid the penalty.
Officers arrested a Canadian resident who was subject of a Canada-wide warrant for breaking and entering issued by the Vancouver Police Services on July 8th. The man, travelling by bus, initially tried to avoid presenting identification to evade detection. Windsor Police Services took custody of the man while arrangements could be made to transport him to Vancouver.
On July 21st, a Canadian resident was referred for a secondary examination off a bus. During the exam of the female's cell phone, suspected child pornography was found. She was arrested, the phone was seized as evidence, and the CBSA Criminal Investigation Division charged her under section 155 of the Customs Act. She was issued an appearance notice, and is scheduled to appear in court on August 29th, 2016.