Guns Seized At The Ambassador Bridge
Monday June 13th, 2016
Posted at 3:34pm

Hello time traveller!!

This article is 916 days old.

The information listed below is likely outdated and has been preserved for archival purposes.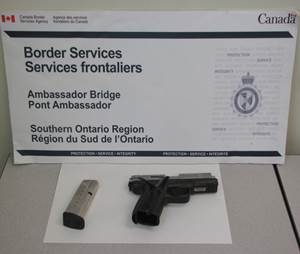 Several guns were seized at the Ambassador Bridge recently, according to the Canada Border Services Agency.
In one incident, two Indiana residents were referred for a secondary examination on April 1st. Officers found a loaded handgun with a 14-round magazine inside a black duffel bag belonging to the male traveller. The gun was seized and the travellers were arrested. The travellers paid the terms of release for the vehicle penalty of $1,500, and continued with their travels into Canada.
Then, after making a wrong turn on to the Ambassador Bridge on April 22nd, four Indiana residents, two men and two women, declared two handguns and a pellet gun to the primary officer. While conducting the secondary examination, officers found a pair of brass knuckles, a Taser gun, and 17 grams of marijuana. All four travellers were arrested and the items were seized. Once the $440 terms of release for the vehicle penalty was paid, they were escorted back to the United States.
And on April 25th, a 60-year-old Ohio resident was referred for a secondary examination. Officers searching the traveller's vehicle noticed his nervous behaviour. During the vehicle examination, loose hollow point rounds were discovered along with a loaded revolver in the glove compartment. The man was subsequently arrested, and the gun and ammunition were seized. Terms of release for the vehicle penalty were $1,000. After satisfying all immigration questions, the traveller paid the terms of release and was allowed to proceed into Canada.
The CBSA also seized weapons at the Detroit-Windsor Tunnel in April.
Three Michigan residents were referred for examination on April 1st. During the exam, an undeclared dog was found in the hatchback. Further examination revealed a contract of sale for the dog, valuing him at $4,000 US, and registration paperwork describing the dog as a purebred. Information found indicated that the purchaser in Canada encouraged the breeder not to declare the dog as a pit bull due to legislation restrictions against the pit bull breed, and also to evade mentioning that the dog was coming in for the purpose of sale. The dog was seized, the terms of release paid were $1,037.68 Canadian, and the travellers with the dog, were returned to the U.S.
On April 20th, a non-NEXUS Michigan resident was referred for examination from the Trusted Traveller NEXUS lane and spontaneously declared a firearm to the secondary officer when he exited his vehicle. The gun was located in the glove box and was seized. The traveller was arrested but was released upon paying the terms of release conveyance penalty of $1,500, and returned to the U.S.