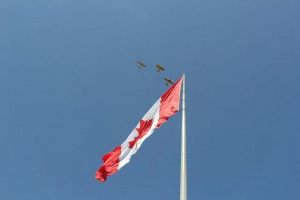 It's the annual Windsor Canada Day parade and community cake celebration.
July 1st, 2018
Canada Day celebrations will include our annual Canada Day Parade from historic Walkerville to Downtown Windsor, as well as entertainment and activities at Festival Plaza.
9AM - Citizenship Ceremony in the lobby of Adventure Bay Family Water Park
10AM - Unveiling of the Windsor125 Public Art Installations on the transformer casing in the parking lot of Adventure Bay, the Chimczuk Museum and the Art Gallery of Windsor.
11AM - Canada Day Parade starts and runs west along Wyandotte Street from Devonshire to Glengarry and then festivities continue at the Riverfront Festival Plaza.
Community presentation of singing of Oh Canada at 1pm along with cake cutting at Festival plaza.
Devonshire Road and Wyandotte Street East, Windsor