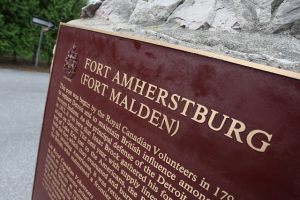 Celebrating Canada's 150th Anniversary with all things CANADIAN in the beautiful historic Downtown of Amherstburg!
August 5th, 2017 to August 6th, 2017
10am-5pm Visit World's Largest Rubber DUCK!
10am-5pm Tall Ship Appledore V deck tours Presented by Fort Malden NHS
10am-5pm Kids Zone at King's Navy Yard Park
10am-5pm Park House 150 Fashion Exhibit
10am-5pm Farmers Market & Food Court
10am-5pm Blockhouse tours on Boblo Island (ferry fee applies)
10am-2pm Stilt Performers
11am West Coast Lumberjack Show
11am-5pm White Works Exhibit at Gibson Gallery
12pm The Diplomats Drum & Bugle Corps (Diplomats show is Saturday only!)
1pm West Coast Lumberjack Show
1pm-4pm Horse & Carriage Shuttle
2pm Tall Ship Battle re-enactment at Fort Malden NHS (park fee applies)
3pm West Coast Lumberjack Show
4pm The Greater Windsor Essex Band
7:30pm Evening Tall Ship Battle re-enactment at Fort Malden NHS (park fee applies) (Evening Battle is Saturday only)
8pm-11pm Tavern at the Fort –Tickets Required (Tavern at the Fort is Saturday only)
Live performances daily include Rhythm of The Nation/Rythme de la Nation, Period Games & Storyteller
For your convenience, FREE Shuttle and Parking at Honeywell Lot and Centennial Park Lot. Choose to Walk from Centennial Park. Saturday, 10 am to 9 pm and Sunday, 10 am to 5:30 pm. Drop off and Pick up at General Amherst High School location.
All activities located at the Kings Navy Yard Park & at the new waterfront development are FREE unless otherwise noted.
Downtown Amherstburg, Amherstburg, Ontario