Date
Saturday July 19th, 2014
Time
10:00pm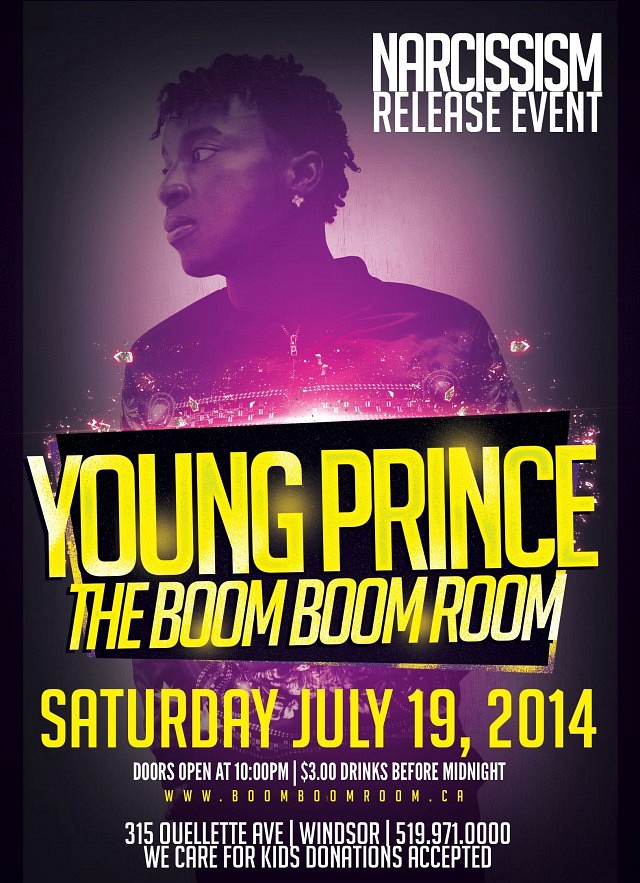 The moment has finally come!
Windsors very own Young Prince is finally releasing his long awaited EP Narcissism !!
Join us on July 19th, 2014 at The Boom Boom Room, too celebrate his official release.
FREE,
Yes free copies will be available to take home! All we ask is that you help us out by making a small donation, part of the proceeds are going to be donated to a charity that is close to Young Prince's heart, W.E. Care for KIDS. If you can't do the donation we still encourage you too join us for the party!
19+, 3$ Drinks before Midnight!
Come best dressed, ladies and gentlemen.
DO NOT miss out on a crazy event! Come out and support your local talent and our children's future!
P.S did I mention at the crack of midnight, it will be Prince's Birthday?!? His champagne birthday?!? Come celebrate his album release and his champagne birthday! All while partying and supporting a local charity!
Location
The Boom Boom Room
315 Ouellette Avenue
Windsor, Ontario