Date
Saturday May 24th, 2014
Time
7:00pm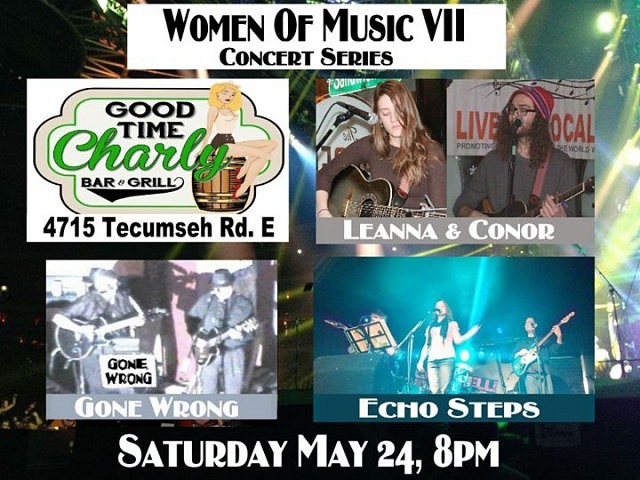 Hello music lovers.
Just a friendly reminder that the wildly popular 'Women Of Music' concert series will be held at Good Time Charly, 4715 Tecumseh Rd E, Windsor, Saturday May 24, 8pm. No Cover!
This premium club has a capacity of 500. There is lots of free parking, great food and drink specials.
All of the top musical acts want this gig.
'GONE WRONG' will open the show at 8pm. They are the 5th ranked Folk-Rock band in Detroit-Windsor. This band has performed hundreds of times live at all of the clubs and festivals that matter like Dirt Fest Michigan, Roots To Boots Amherstburg, Capture Of Detroit, London Music Club, Pam Rossi Radio Show etc. 'GONE WRONG' has also performed for the Governor General of Canada at the Queenston Heights concert. 'GONE WRONG' has had their music featured on Cogeco Films, and Canadian History Magazine. They play great covers that everyone knows and awesome original material.
Leanna & Conor' come on stage 2nd. This duet have a very polished show that is always a pleasure to witness. These two are veteran performers of the Windsor Downtown bar scene. Conor is a great guitarist singer-songwriter with originals and covers. He hosts the open mic at Lefty's Underground every Thursday. Leanna has lots of great original music of her own and adds a special vibe to her covers with sparkling soaring vocals. These two are great together!
'Echo Steps' will close the show. They are a full on 4 piece rock band. Denise Theriault can flat out SING! Her covers sound better than the originals. She is one of the few singers that can cover performers like Pat Benetar and Heart. Chris Gignac's guitar playing is brilliant. He manages to pull off the most difficult guitar parts we all know and love. Al Mativier slaps out the bottom end on bass guitar and the whole thing is held together by Kyle Billion as he bangs on his drums all day!
Come on out to 'Good Time Charly' on Saturday May 24, 8pm, for a great time. See you there!
Please forward this info to everyone.
Cheers, Terry Taylor, of 'Acoustic Fantasy Productions'.
https://www.facebook.com/pages/Acoustic-Fantasy-Productions/344871035539275
Location
Good Time Charly
4715 Tecumseh Road East
Windsor, Ontario