Date
Saturday October 26th, 2013
Time
6:00pm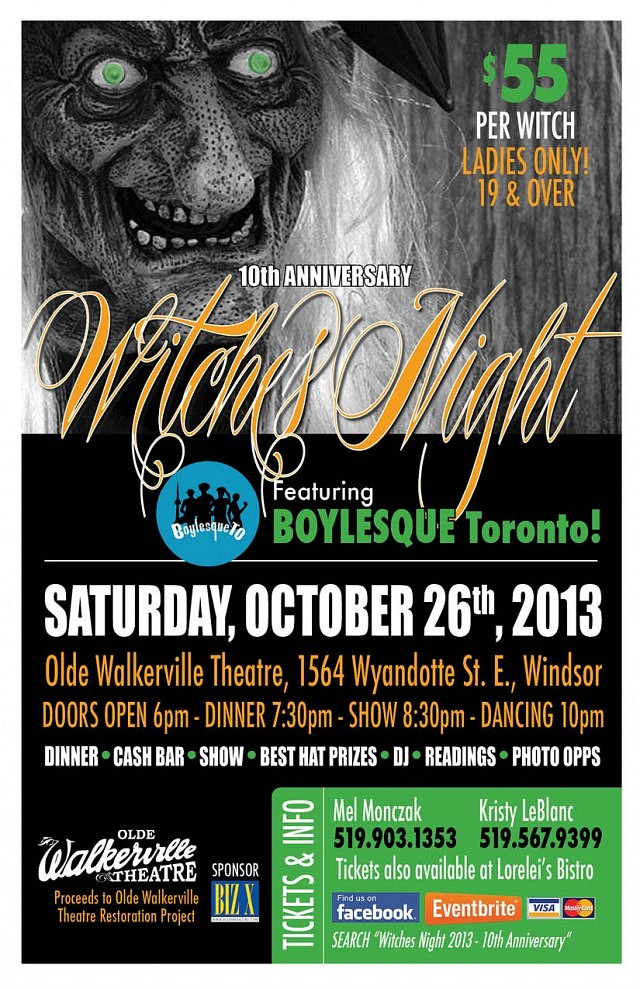 WITCHES NIGHT 2013- 10th ANNIVERSARY
FEATURING Boylesque Toronto – Canada's Premiere
All-Male Burlesque Troupe
6:00pm – Doors open for see & be seen & cocktails
(cash bar)
7:30pm – Sit down buffet dinner.
8:30pm – Boylesque Toronto performs.
10:00pm to 1:00am – DJ & dancing, door prizes, best hat prizes & more!
PLUS…
Professional photographer Rodney Denis will be on hand to capture photos of witchy individuals and groups with props and theatrical lighting. You'll be able to choose the best photo on the spot – a 5×7 for just $10.
Tarot Card reader Cheryl Andary will answer your questions and tell you all about your amazing future. $10 for an amazing 15 minute card reading. Have your question ready!
TICKETS are $55. Please contact us on Facebook
or by calling Kristy LeBlanc 519-567-9399
or Mel Monczak 519-903-1353.
Visit Lorelei's Bistro 1526 Wyandotte St. E in Walkerville.
Or visit our www.eventbrite to pay Visa or Mastercard. http://witchesnight2013.eventbrite.com/
ASK ABOUT…
Our VIP seating in OLDE WALKERVILLE THEATRE – WICKED WITCHES OF THE EAST balcony.
OR
OLDE WALKERVILLE THEATRE – WICKED WITCHES OF THE WEST balcony
REMEMBER…
LADIES ONLY. Must be 19. There will be some male nudity.
WITCH'S COSTUME IS MANDATORY and you must have a hat. There will be door prizes and prizes for the BEST witches' hats!
ALSO…
Enjoy a brew or two… But PLEASE don't drive your broom or your car. Have a driver drop you off and pick you up. If you must, drive here are a few parking options.
• Municipal lot in Walkerville
• Lincoln Road United Church lot
• Monarch Mattress lot
• Street parking surrounding theatre
Witches Night 2013 – 10th Anniversary is proudly sponsored by BizX and Lorelei's Bistro and Value Village.
DEALS FOR WITCHES:
Witches 'n Stitches offering us a 15% discount on their beautiful hats. http://www.etsy.com/shop/witchesnstitcheshats
Location
Olde Walkerville Theatre
1546 Wyandotte Street East
Windsor, Ontario