Date
Wednesday January 21st, 2015
Time
10:00am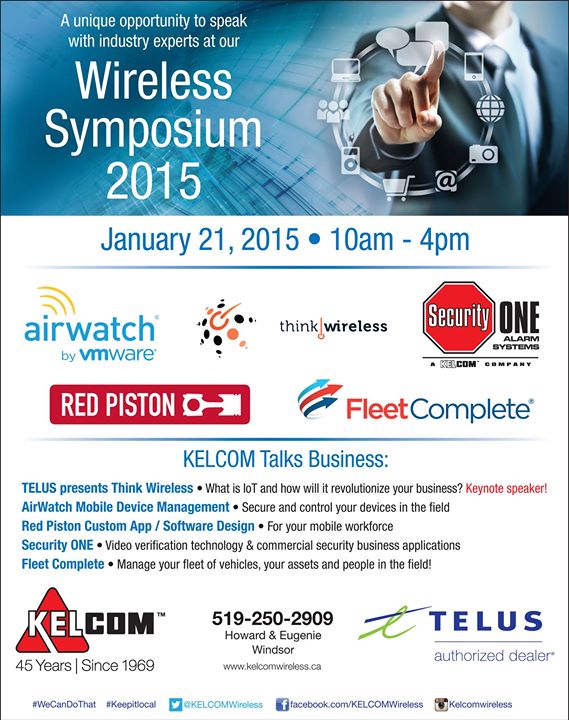 When you think of technology, forget about Silicon Valley – think of Windsor, Ontario.
On January 21st from 10AM – 4PM, KELCOM will exceed its reputation as we open our doors for our first ever Wireless Business Symposium.
We are inviting world-class industry leaders from AirWatch, Red Piston, TELUS IoT, Fleet Complete and our own Security One to present their unique business solutions to an audience of small- to medium- sized business owners to corporations of all sizes, many of whom are locally owned and operated.
These organizations will have an exclusive opportunity to learn more about cutting-edge business solutions that will allow businesses to achieve increased efficiencies, generate revenue and improve overall communication and reporting through engaging presentations ranging from Mobile Device Management, to Fortune 500 standard Mobile Apps & Service, to IoT- Game changing technology.
The Wireless Symposium will coincide with our annual Vendor Rally; our tech vendors will have booths set up throughout the lower level of our building.
Vendors include: Motorola, Samsung, Hitfar, HTC, and more, as well as representatives from the above Symposium presentations who will be available for one-on-one meetings. Our vendors will be previewing their 2015 roadmap as well as showcasing what they have to offer with the latest and greatest in wireless technology – from applications to the latest wearable's, audio and devices!
Our Vendor Rally will go on throughout the day and be open to consumers, with exciting draws & giveaways from each vendor.
Think forward. You've got the tools. Empower yourself technology that will revolutionize the way you do business into the future.
Contact us for more details:
Joana Szeen
Marketing & Social Media Coordinator
519 250 2909
Location
KELCOM Wireless • Your Local Authorized TELUS Dealer
363 Eugenie Street East
Windsor, Ontario