Date
Friday August 26th, 2016
Time
8:00pm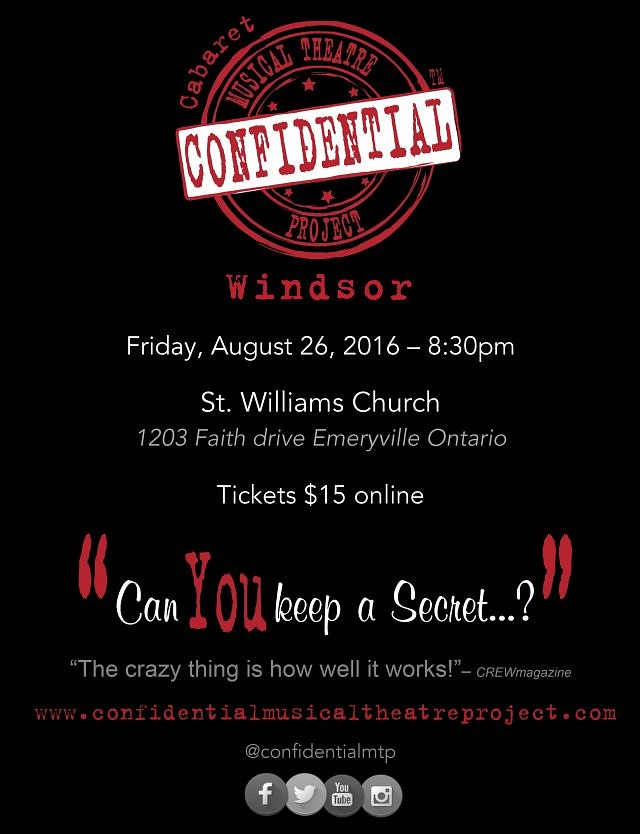 Windsor-Essex has talent busting out of the seams! It's time to give you a little "Confidential Teaser" on how this crazy project works- all while raising money for a great local cause!
LAFA is excited to present Windsor's CONFIDENTIAL CABARET FUNDRAISER coming to Lakeshore this Summer to help raise money for the newly approved renovation of a new local theatre and arts facility, the Lakeshore Arts Centre!
On Friday, August 26th, 8 singers actors from the local Windsor-Essex area will share the stage for one magical night of Musical Theatre under the stars! There's only one catch- they cannot reveal the titles of the songs they have been chosen to sing AND they are not allowed to rehearse with their musical partners ahead of time!
This cast will be meeting one hour prior to the show and revealing the songs to everyone as they sing with one another for the first time on stage in front of a live audience!
Not sure about this who "Confidential Musical Theatre Project" thing? Why not come on out for some musical Summer fun!
DATE: Friday, August 26th, 2016
TIME: "Doors Open" at 8:00pm, show begins at 8:30pm
LOCATION: 1203 Faith Drive (St. Williams Church)
TICKET PRICE: $15.00 (at the door, or online)
To reserve your tickets, please email [email protected] or visit the confidential theatre website at www.confidentialmusicaltheatreproject.com and click on our city (Windsor) for more information.
Location
St. Williams Church
1203 Faith Drive, Emeryville Ontario
Lakeshore, Ontario