Date
Saturday November 30th, 2013
Time
10:00am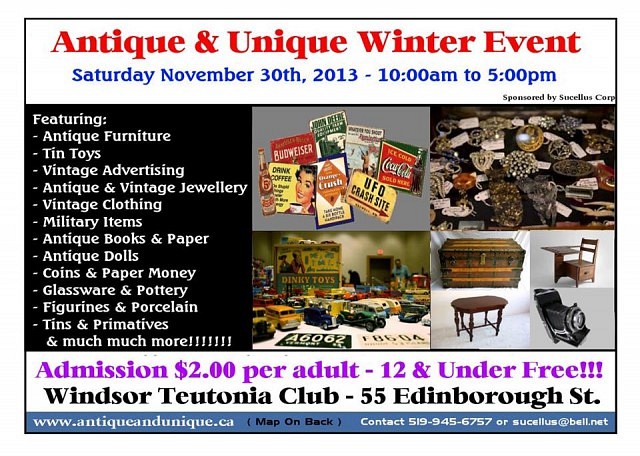 Welcome to the Windsor Antique & Unique Winter Event
Saturday November 30th, 2013
Windsor Teutonia Club
55 Edinborough St
Admission $2.00 per adult – 12 & under Free!!!
The Windsor Antique & Unique Winter Event is a large
multi-vendor event offering a variety of antiques,
collectibles and nostalgia.
Featuring: furniture, glassware, coins, advertising, tins,
antique toys, military, figurines, art, jewellery, vintage clothing, lighting, books, glassware and more!!!!
We will also be holding our second "Kick In A Can" Food Drive.
10am to 5pm we will accept can goods, food stuffs and donations.
All food and food drive donations go to the Windsor Unemployed Help Centre Food Bank.
Also being held are Charity Appraisals by appointment only. $10.00 per appraisal with a maximum of 3 items per person. All appraisals are verbal and all appraisal money goes to the Unemployed Help Centre Food Bank.
***Free Parking, ATM Onsite, Food Onsite***
For more information go to our site at
www antiqueandunique.ca or call 519-945-6757
Sponsored By Sucellus Corp
Location
Windsor Teutonia Club
55 Edinborough Street
Windsor, Ontario