Date
Saturday June 21st, 2014
Time
9:00am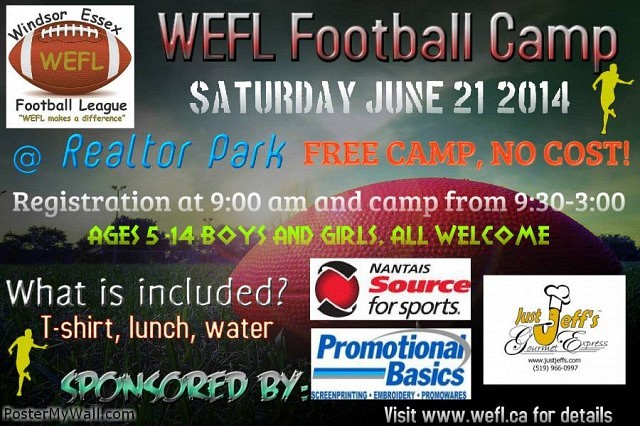 WEFL is very excited to announce the kick off to our 2014 pre-season! Due to the overwhelming support from our friends, family and community; WEFL is proud to announce that this year we will be having 4 FREE football camps!!! Other camp dates will be available on the website.
CHILDREN REGISTRATION:
•These camps will be offered to ALL CHILDREN BETWEEN THE AGES OF 5-14 as of December 31, 2014
• Children do NOT need to have any football experience or need to be a WEFL member to attend.
•ALL CHILDREN ARE MORE THAT WELCOME TO ATTEND!
•This is a great opportunity to see if your child would like the wonderful sport of football before registering!
•There is no pre registration required. Child registration will take place at 9AM at Realtor Park.
EQUIPMENT REQUIRED:
•Clothing – All children are required to bring weather appropriate clothing to the camp.
•Sunscreen – WEFL would encourage the use of sunscreen throughout the day. Please note that WEFL will not be providing sunscreen to the children who attend.
•Shoes – All children will be required to wear appropriate running shoes (or cleats if available but not mandatory) to the camps
•Football equipment is NOT needed for our camps! WEFL camps are NON-CONTACT and therefore do not require helmets, shoulder pads, etc. to attend.
COACHES:
A special thank you goes out to the various coaches from WEFL, the high school level, and various coaches from the surrounding area. These coaches have volunteered their time to come out and teach football skills and drills to all children who attend.
FOOD/BEVERAGES:
All children will receive lunch sponsored by Just Jeffs as well as water during our camps.
T-SHIRTS:
All children will receive ONE free t-shirt while supplies last. Shirts were sponsored by Promotional Basics and Nantais Source for Sports.
Please Note: If your child is attending all camps, one shirt will be provided during the first camp. Children are responsible to wear their shirt to the other camps.
For any further questions, comments or concerns, please feel free to email WEFL through the Contact Us page at http://www.wefl.ca .
Location
Realtor Park
1199 Janisse Drive
Windsor, Ontario