Date
Saturday June 17th, 2017
Time
8:00pm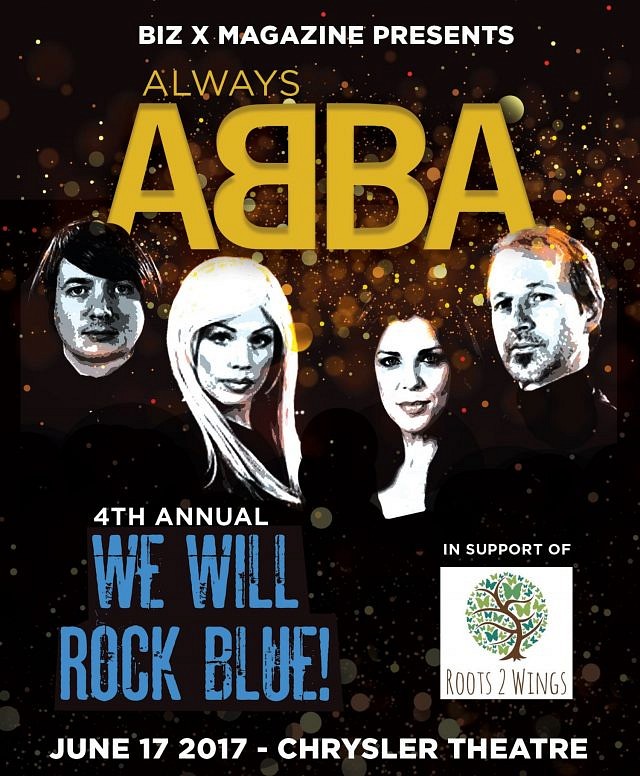 We Will Rock Blue!, supporting Roots2Wings programs, is now in its 4TH year. The inspirational music of ABBA will rock downtown Windsor's Chrysler Theatre on June 17, 2017.
ALWAYS ABBA has been thrilling crowds across North America, performing the hits you know and love. This live tribute celebrates all the iconic songs that have made ABBA one of the most legendary rock bands of all time. Audiences are amazed, and they come away feeling like they just experienced a 1970's ABBA concert!
The seven-piece ABBA band plays every note live and sings in full four-part harmony. Come hear Mama Mia, S.O.S, Waterloo, Take A Chance On Me , Knowing Me Knowing You, Money, Money, Money and Dancing Queen, just to name a few. This amazing band faithfully re-creates the grand scope of an ABBA live show. It's guaranteed to blow your mind!
This event supports Roots 2 Wings'. This organization provides youth and young adults living with a disability the opportunities to grow and develop skills to enhance their independence, social skills and quality of life by connecting them with their community, increasing their social relationships and fostering their need for belonging.
Here's your chance to support Roots 2 Wings while rocking to the inspirational music of ABBA.
Enjoy ALWAYS ABBA, and thanks for your support of the 4th WE WILL ROCK BLUE!
Showtime: 8:00 p.m.
Ticket price: $22.00 balcony, $32.00 main floor
Location
CHRYSLER THEATRE
201 RIVERSIDE DR. W
Windsor, Ontario