Date
Saturday August 16th, 2014
Time
7:00pm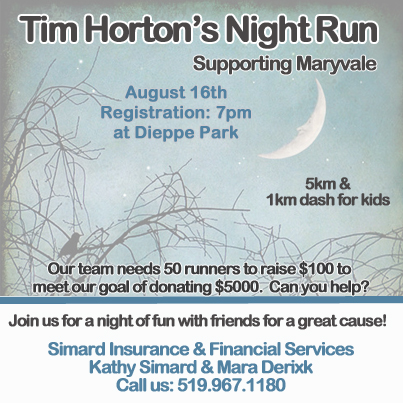 Come join our team! Simard Insurance and Financial Services is supporting Maryvale through the Tim Horton's Run / Walk on August 16th at 7pm.
***All funds raised by our team will be matched by Freedom 55 Financial***
So get a group together and come out and support Maryvale.
Maryvale is a Children's Mental Health treatment centre in Windsor, Ontario where adolescents experiencing very serious emotional, psychological and mental distress can receive therapy and assistance from a team of experts.
Get in touch with us so that we know you're joining our team and any funds you raise are doubled!!!
Simard Insurance and Financial Services
Kathy L. Simard – President
CFP, FLMI, CHS
Financial Security Advisor
519.967.1180 x. 229
[email protected]
Mara Derikx
BBA, CHS
Financial Security Advisor, Critical Illness and Disability Insurance Specialist
519.967.1180 x. 239
[email protected]
Location
Dieppe Park
78 Riverside Drive West
Windsor, Ontario