Date
Saturday June 28th, 2014
Time
8:00pm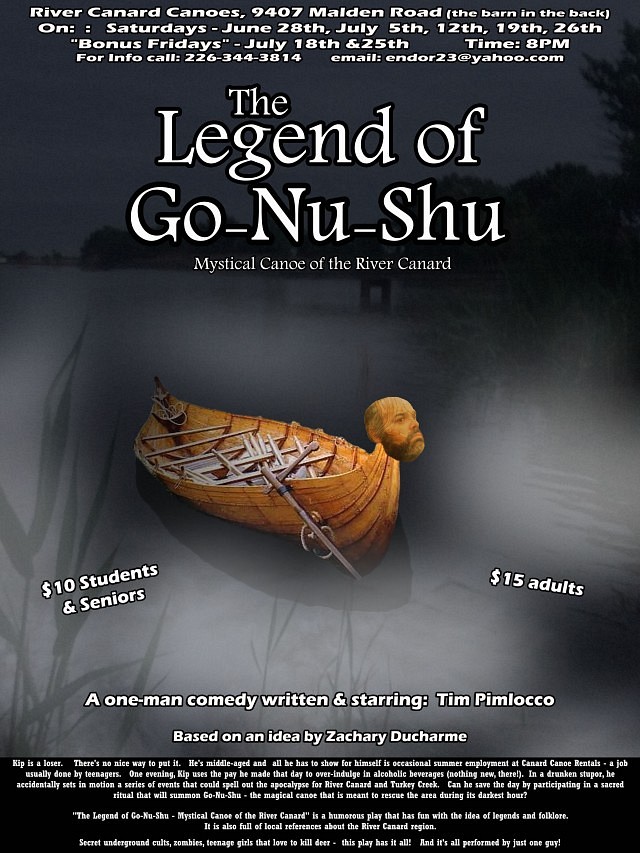 The Legend of Go-Nu-Shu – Mystical Canoe of the River Canard.
a one-man comedy written and starring: Tim Pimlocco
based on an idea by Zachary Ducharme
Kip is a loser. There's no nice way to put it. He's middle-aged and all he has to show for himself is occasional summer employment at Canard Canoe Rentals – a job usually done by teenagers. One evening, Kip uses the pay he made that day to over-indulge in alcoholic beverages (nothing new, there!). In a drunken stupor, he accidentally sets in motion a series of events that could spell out the apocalypse for River Canard and Turkey Creek. Can he save the day by participating in a sacred ritual that will summon Go-Nu-Shu – the magical canoe that is meant to rescue the area during its darkest hour?
"The Legend of Go-Nu-Shu – Mystical Canoe of the River Canard" is a humorous play that has fun with the idea of legends and folklore. It is also full of local references about the River Canard region. Even some of the characters are based on real people that live in the area. The canoe is real, too!
Secret underground cults, zombies, teenage girls that love to kill deer – this play has it all! And it's all performed by just one guy!
Showdates: Saturdays- June 28th,
July 5th, 12th, 19th, 26th
"Bonus Fridays" – July 18th and 25th
Showtime: 8PM
Price: Adults – $15
Students/Seniors – $10
Address: Canard Canoe Rentals, 9407 Malden Road (barn in the back)
Location
Canard Canoe Rentals
9407 Malden Road
LaSalle, Ontario