Date
Friday February 7th, 2014
Time
8:30pm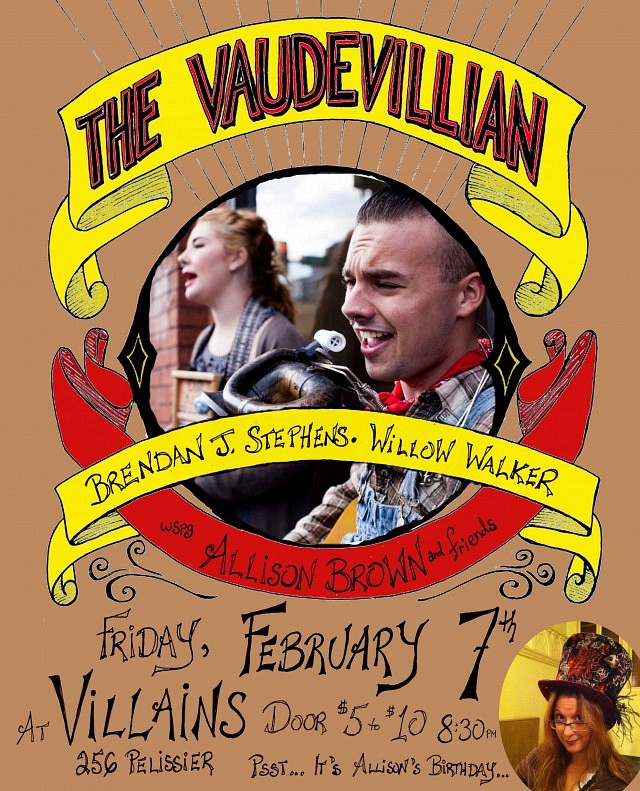 FRIDAY, FEBRUARY 7th – at Villians Beastro
The Vaudevillian (Brendan J Stephens & Willow Walker)
with special guest Allison Brown & Friends
8:30pm, suggested door $5 to $10
http://brendanjstephens.bandcamp.com/
www.allisonbrown.ca
Hey Windsor- you've all seen the stickers… The Vaudevillian is everywhere!! You may have seen Brendan & Willow at impromptu evenings at various venues or busking on Ouelette while on one of their many journeys across North America, they're back on Friday, February 7th for a show at Villians with special guest Allison Brown & Friends!!
Pssst… it's Allison's Birthday 'eve' and her first gig back in Windsor since moving up to London!
Brendan J Stephens and Willow Walker are 1920's blues singers in the flesh. Hitchhiking between raucous house shows, rowdy bars and busking everywhere in between, they have crafted a way of singing both their own material and songs near one hundred years old in a way entirely their own.
Location
Villains Beastro
256 Pelissier
Windsor, Ontario