Date
Thursday June 16th, 2016
Time
1:30pm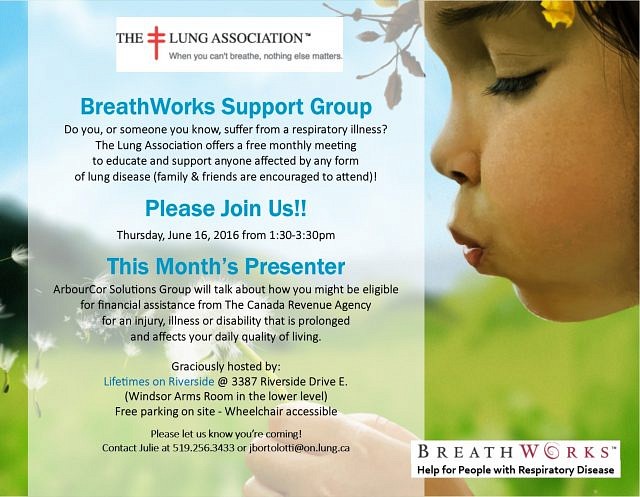 On Thursday, June 16, a representative from ArbourCor Solutions Group will speak to The Lung Association's BreathWorks Support Group to talk about their possible eligibility for a non-refundable Disability Tax Credit to help offset the expenses of their lung health issues.
Currently 3,000,000 Canadians are living with Asthma while another 780,000 suffer from COPD (a lung disease characterized by chronic obstruction of lung airflow that interferes with normal breathing) and ArbourCor will help these individuals customize their file for the Canada Revenue Agency; thus applying for the maximum amount of money from the government (they are able to submit up to 10 previous years to claim this credit which may result in a refund of up to $35,000 for children and $17,000 for adults).
If you are interested in learning more, please join us at Lifetimes on Riverside (3387 Riverside Dr. E. at Strabane) from 1:30-3:30pm on Thursday, June 16 to learn whether you are eligible to receive this tax credit. There is no cost to attend and you are encouraged to bring a friend or family member along.
Please phone 519-256-3433 or email [email protected] for more details or to register.
Location
Lifetimes on Riverside
3387 Riverside Drive East
Windsor, Ontario