Date
Thursday December 17th, 2015
Time
11:30am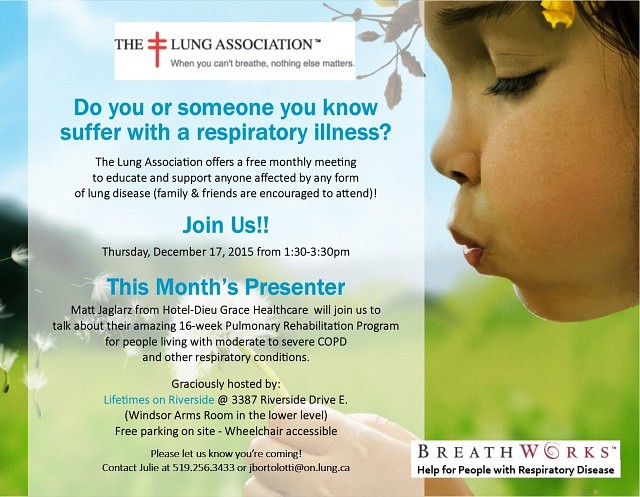 Each month The Lung Association holds its BreathWorks Support Group meeting for anyone living with lung health issues.
There is no cost to attend these informal sessions and we encourage you to bring along a family member, friend or caregiver with you.
All sessions are held in the Windsor Arms Room at Lifetimes on Riverside (3387 Riverside Dr. E. at Strabane).
On December 17 (from 1:30-3:30pm), we will welcome
Matt Jaglarz, COPD Educator in the Outpatient Neurological and Pulmonary Rehabilitation Department at Hotel-Dieu Grace Healthcare
to provide our group with details about the 16-week Pulmonary Rehabilitation Program offered at their location
for people living with moderate to severe COPD and other respiratory conditions.
If you are interested in learning new ways to improve your quality of life while living with lung disease,
then this very welcoming group is the place for you!
Please phone Julie at 519-256-3433 if you're interested in attending or if you have any further questions about our group.
Location
Lifetimes on Riverside
3387 Riverside Drive East
Windsor, Ontario