Date
Friday December 19th, 2014
Time
9:30pm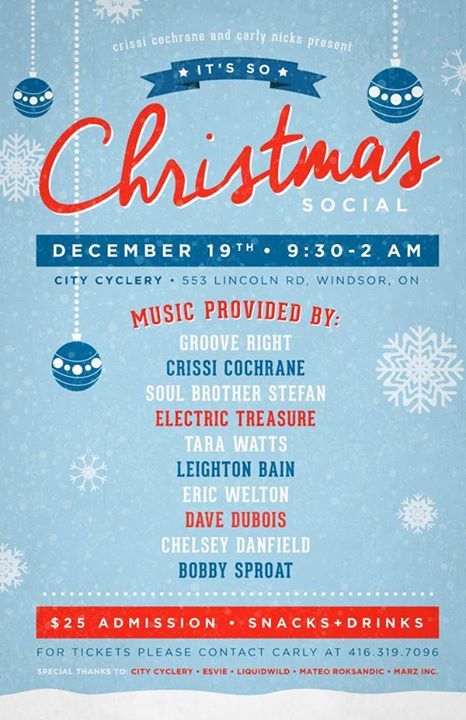 Crissi Cochrane and Carly Nicks Invite you to the It's So Christmas Social at The City Cyclery.
The holidays are time of celebration and creating memories and we want to do both with you.
Come out and enjoy Christmas Tunes by local artists
CRISSI COCHRANE
TARA WATTS
LEIGHTON BAIN
ERIC WELTON
DAVE DUBOIS
CHELSEY DANFIELD
BOBBY SPROAT
And DJ sets by
GROOVE RIGHT – SOUL BROTHER STEFAN – ELECTRIC TREASURE
Tickets are $25 and include 1 free drink and late night snacks. You can purchase them online here: http://itssochristmas.eventbrite.com
or you can purchase them from Carly Nicodemo at 4163197096 (Text or Call) or email [email protected]
All proceeds benefit the Downtown Mission.
Don't be naughty, Dress Nice.
Special thanks goes out to Esvie, LiquidWild, City Cyclery , Mateo Roksandic, and Marz Media
*Limited Tickets are Available. We suggest you purchase them as soon as you can, so you don't miss out*
Location
City Cyclery
553 Lincoln Road
Windsor, Ontario