Date
Thursday May 4th, 2017
Time
5:00pm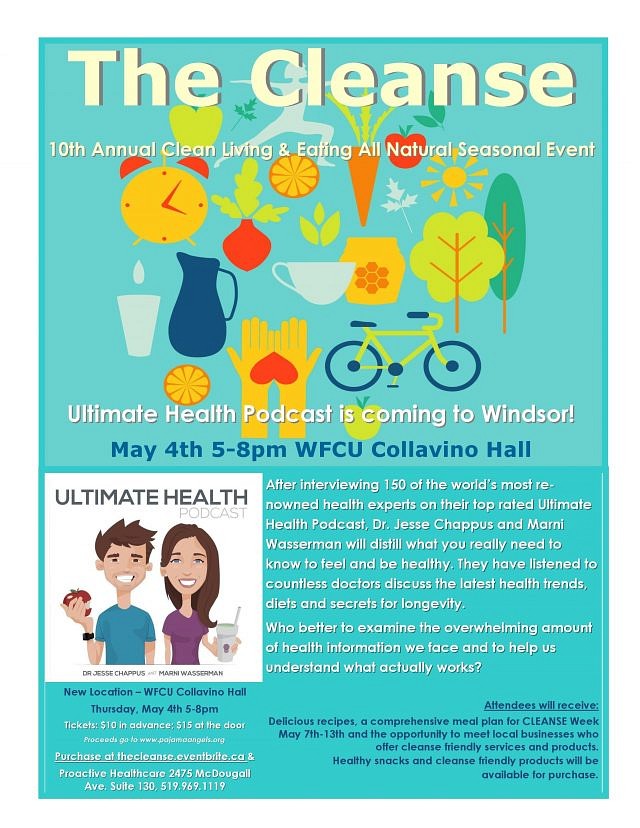 This year we are excited to have the Ultimate Health Podcast in Windsor.
After interviewing 150 of the world's most renowned health experts on their top rated Ultimate Health Podcast, Dr. Jesse Chappus and Marni Wasserman will distill what you really need to know to feel and be healthy. They have listened to countless doctors discuss the latest health trends, diets and secrets for longevity. Who better to examine the overwhelming amount of health information we face and to help us understand what actually works?
Attendees will be provided with a clean eating package that includes a meal plan, shopping list and recipes, allowing them an opportunity to participate in a week long healthy "cleanse" starting May 7th to13th. Yoga classes, cooking demos and health information talks will be set up during the week so participants can deepen their understanding of healthy living.
Cost to attend the event is $10 in advance through Eventbrite or $15 at the door. A donation will be made to Pajama Angels.
Location
WFCU Collavino Hall
8787 McHugh Street
Windsor, Ontario