Date
Sunday March 1st, 2015
Time
7:00am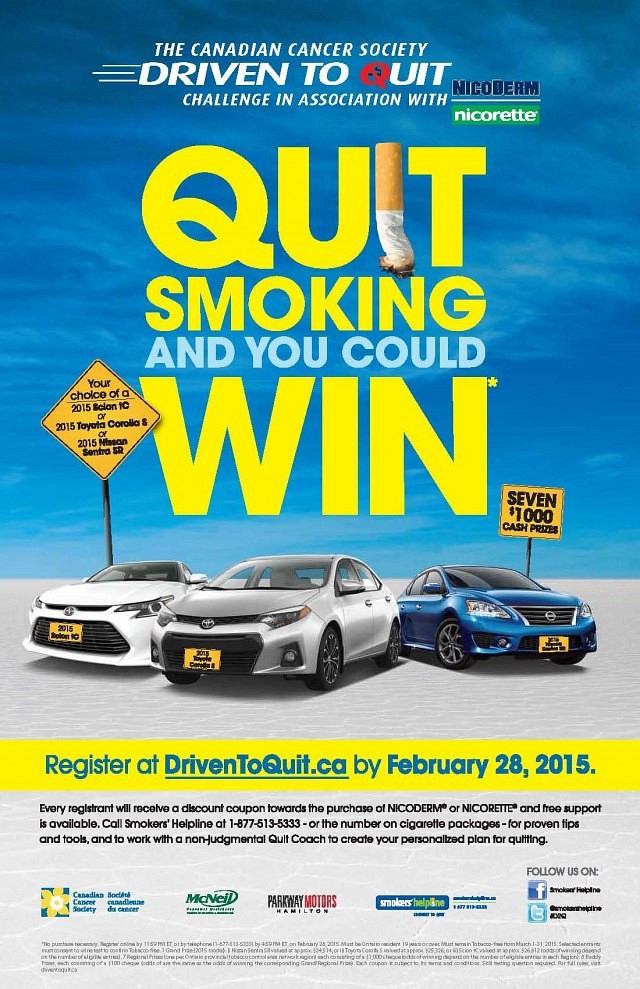 The Canadian Cancer Society's Driven to Quit Challenge (D2Q) is back for 2015! The Driven to Quit Challenge is a health promotion campaign intended to motivate Ontario smokers and tobacco users to make a quit attempt with the support of a "buddy". Entrants who remain tobacco free for the month of March 2015 are eligible to win a car or cash prizes. Participants are encouraged to take advantage of the free support services of Smokers' Helpline and all entrants receive discount coupons for Nicorette or Nicoderm nicotine
replacement therapy products.
The grand prize is a winners choice of one of three cars: 2015 Nissan Sentra SR; or a 2015 Corolla S; or a 2015 Scion tC. There is also seven $1000 cash prizes and 8 $100 support buddy prizes (when applicable).
The Challenge is in association with McNeil Consumer Healthcare, a
division of Johnson & Johnson Inc., makers of NICODERM® and NICORETTE®. The grand prize
sponsor is Parkway Motors of Hamilton, Ontario.
Registration for the Driven to Quit Challenge is open until February 28, 2015. All participants receive
discount coupons for NICODERM® or NICORETTE® nicotine replacement therapy products. Entrants
who register with a support buddy will receive a second entry into the grand prize draw, doubling their
chances of winning. Registered support buddies are also eligible to win a prize. To enter and for more
details about the Challenge, go to DriventoQuit.ca or call the Canadian Cancer Society's Smokers'
Helpline at 1 877-513-5333.