Date
Saturday April 22nd, 2017
Time
7:30pm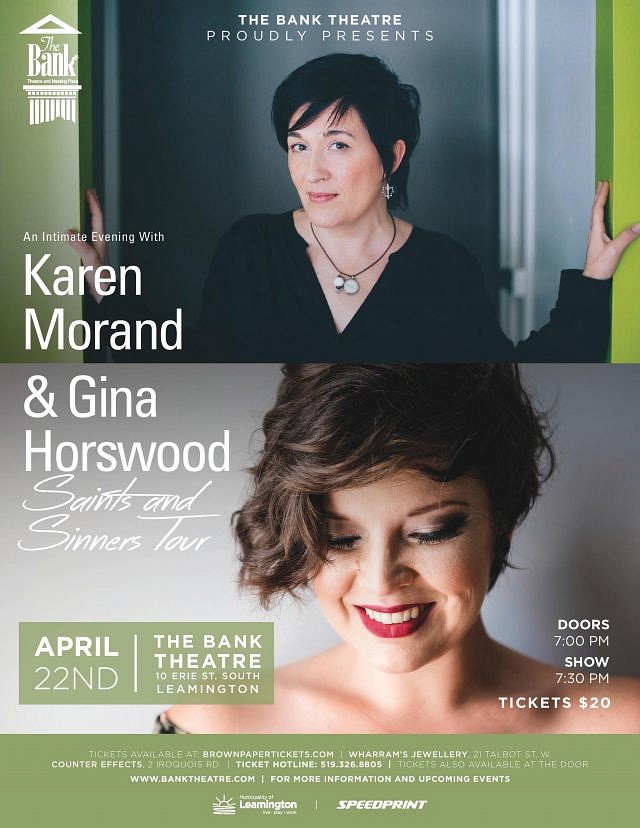 The Bank Theatre and Meeting Place is proud to present An Intimate Evening with Karen Morand & Gina Horswood
Doors 7:00PM Show 7:30PM
Tickets: $20
Tickets Online:
http://karenandgina.brownpapertickets.com/
Ticket Outlets Leamington :
Counter Effects 2 Iroquois Rd
Wharram's Jewellers Ltd. 21 Talbot St. W.
Hotline: 519-326-8805
Website: www.banktheatre.com
Award winning singer-songwriters Karen Morand and Gina Horswood join forces touring Ontario in support of their new CDs. Karen hails from Windsor, while Gina is Aussie Canadian. Powerhouse vocals, polished award winning songwriting, at once warm and earthy, yet vulnerable and defiant, Karen and Gina will have you celebrating life in all of its joy and broken parts and leave you inspired and wanting more.
Armed with original songs and feisty, powerhouse vocals, Karen Morand (karen morand) delivers a soul-stirring show. It's lively, alt-folk with well-worn blues and gritty gospel on the side. Karen's songs celebrate the joys and broken parts of real life.
Quietly compelling, Aussie-Canadian singer-songwriter Gina Horswood is a musical force to be reckoned with. Now based in Toronto, Horswood has traveled far and wide for her music, as a true modern troubadour.
The Bank Theatre is located at 10 Erie St. S in Leamington, is accessible and has ample parking.
Tickets are just $20 and available at Counter Effects and Wharram's Jewellery Ltd. in Leamington.
Also available at the door night of shows, or online at http://www.brownpapertickets.com/event/2875397
For more information call 519-326-8805 and please visit
www.karenmorand.com
www.ginahorswood.com
www.banktheatre.com
Sponsored by the MUNICIPALITY OF LEAMINGTON and Speedprint
Location
The Bank Theatre and Meeting Place
10 Erie Street South
Leamington, Ontario