Date
Saturday May 13th, 2017
Time
7:30pm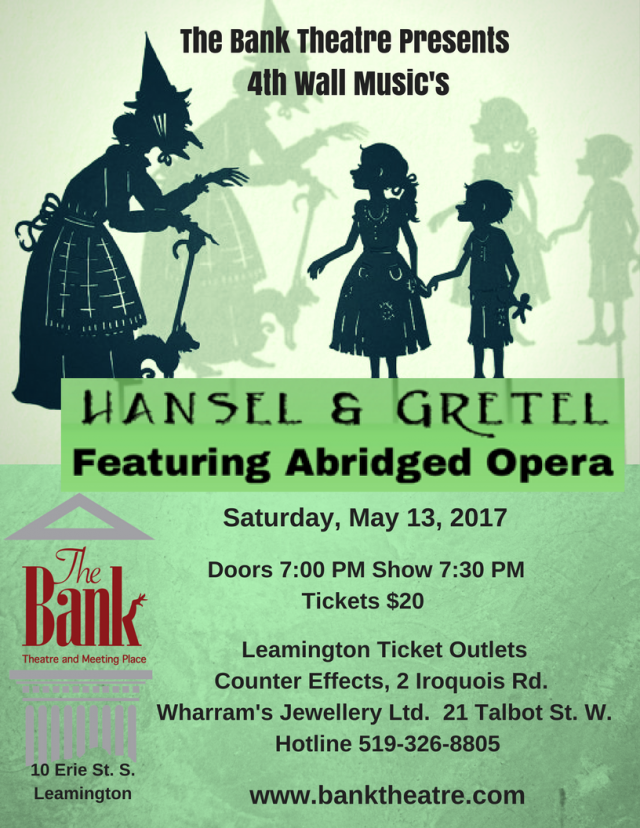 The Bank Theatre Presents
4th Wall Music's "Hansel & Gretel"
Featuring Abridged Opera & Kordazone Thespians
Saturday, May 13
Doors 7PM Show 7:30PM
Tickets $20
Online http://hanselandgretelbanktheatre.bpt.me/
Leamington Ticket Outlets
Counter Effects – 2 Iroquois Rd.
Wharram's Jewellery -21 Talbot St. W.
This classic fairly tale 4th Wall Music's "Hansel & Gretel" comes to life featuring Abridged Opera & Kordazone Thespians.
Inspired by the classic fairy tale, Engelbert Humperdinck's take on Hansel and Gretel leaves out the breadcrumbs but adds a Sandman and a chorus of gingerbread cookie children to liven things up.
Cast list:
Hansel – Amelia Daigle, mezzo-soprano
Gretel – Kaitlyn Clifford, soprano
Mother – Christine Turingia, soprano
Father – Jake Flynn, baritone
Witch – Erin Dickau, mezzo-soprano
Chorus of Gingerbread Cookies:
Part 1
Maddie Audet
Madison Booth
Ava Crawford
Brooke Dominguez
Emmerson Jadischke
Alexia Pacheco
Hayley Romanyk
Part 2
Alexandria Booth
Amber Collison
Julia Martin
Xavier Otero-Jones
Siena Pacheco
Elizabeth Soulliere
Piano – Joanna Henderin
Clarinet – Trevor Pittman
Harp – Amy Ley
Cello – Peter Wiebe
Director – Tracey Atin
Crew – Aaron Dickau
– Chris Henderin
Location
The Bank Theatre and Meeting Place
10 Erie Street South
Leamington, Ontario