Date
Sunday May 15th, 2016
Time
1:00pm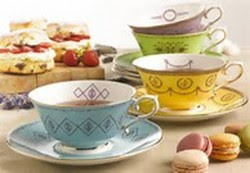 Ladies and Gentlemen, we invite you to join the AGW Volunteer Committee for our annual spring fundraising event. The affair opens with a docent-led tour of the current exhibitions from 1:15-1:45 pm. Meet at the information desk on the second floor.
Seating starts at 1:45 pm in the breathtaking third-floor Rodzik Gallery, overlooking the beautiful Detroit River and skyline. Help us to celebrate the spring with "An English Tea", an afternoon of good food and good company.
The menu includes: tea, fruit skewers, finger sandwiches and savory pinwheel sandwiches, plain and lavender scones with cream, lemon curd and jam, mini pastries and tarts.
Wear a hat and be eligible to win a prize. The categories for the hat prizes are: Vintage, Most Creative, Most Elegant, and Most Outrageous Hat.
Tickets: $40
Methods of payment
Cheque made out to "AGW Volunteer Committee" and mailed to:
Art Gallery of Windsor; Attn: Margaret Entwistle
401 Riverside Dr. West; Windsor, ON N9A 7J1
Credit card, call 519-977-0013 ext. 117, Wednesday-Sunday between 11:15 am – 4:45 pm, to provide payment information
Location
Art Gallery of Windsor
401 Riverside Drive West
Windsor, Ontario