Date
Saturday August 23rd, 2014
Time
3:00pm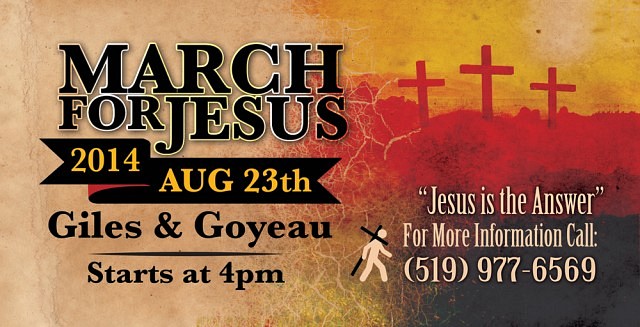 The 6 th Annual "March For Jesus" celebration event takes place Aug 23rd 2014. Parade gathers @
3 pm 68 Giles Blvd Windsor, On
The "March" begins @ 4 pm (route – Goyeau st, to MC Dougall st. Ending at Charles Clark square park) For those who are unable to walk transportation will be provided.
March for Jesus is a  event when our community come together as a  body both  Denominational and Non-Denominational , young or old and celebrates their faith in Jesus Christ!.
A FREE event for the whole family!
Join us at Charles Clark Square, 44 University St. after the "March" for prayer and celebration in songs .There will be a musical concert featuring local Gospel Artist such as Windsor's Native RJones, Revelation Band, children's drama groups, Soloist & Musicians. Bring your floats flags and Banners.
Everyone is Welcome to come and Celebrate Jesus with us. Jesus is the Answer!!
* There will be T-Shirts, Buttons, small Christian Flags available for sale
 check us out on Facebook
For more Info: contact 519 977-6569 or check us out on Facebook /
Location
Charles Clark Square
Downtown Windsor
Windsor, Ontario