Date
Saturday April 25th, 2015
Time
9:00am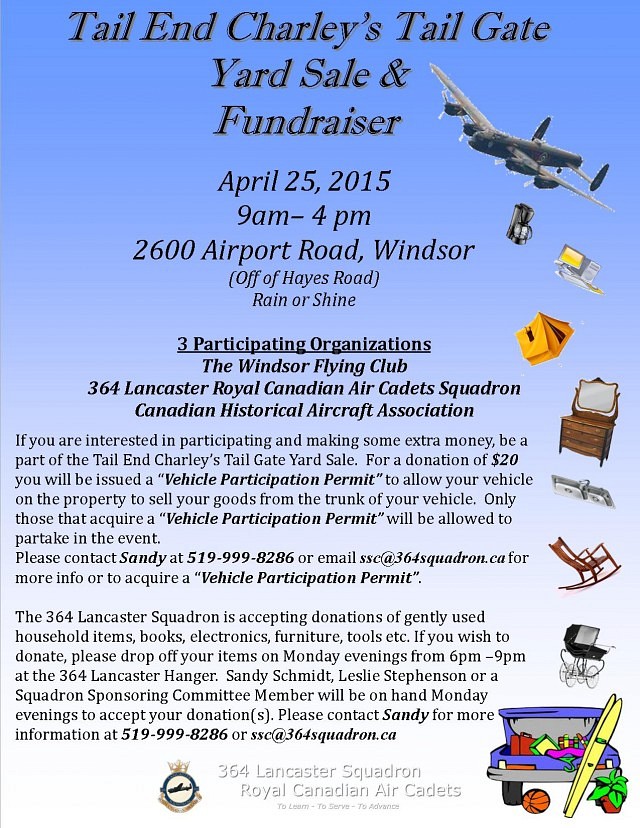 364 Lancaster Squadron, based out of the Windsor International Airport, has approximately 130 cadets (ages 12-18) making us the largest squadron in Ontario. The Air Cadet program is funded in part by the Department of National Defense and in part by the civilian Air Cadet League of Canada. Each squadron has a local sponsor that fundraises and handles financial matters for the squadron and provides additional resources that are otherwise not provided at the national level. Uniforms, training, food, summer camps and much more are all provided at no cost to the Cadet. Financial support is used to benefit our Air Cadet program in many ways to assist and benefit our young Cadets.
On Saturday April 25, 2015 the Squadron Sponsoring Committee is holding a Yard Sale and Fundraising event. All monies raised at the event located at the 364 Lancaster Squadron will go to the programs and organization for the Air Cadets. Please come out, rain or shine!
If you wish to help our not for profit organization by donating gently used household items, tools etc. that would be greatly appreciated. Donations can be dropped of at our location up until April 23, 2015 on Monday evenings.
Alternatively, individuals can donate $20 to participate in our fundraiser and make some extra money for themselves. With a $20 donation, you will receive a "vehicle participation permit" which will allow you to sell your own crafts or items from your vehicle at our event.
Please contact Sandy at 519-999-8286 or email [email protected]
Location
364 Lancaster Squadron Royal Canadian Air Cadets
2600 Airport Road
Windsor, Ontario