Date
Wednesday May 25th, 2016
Time
6:30pm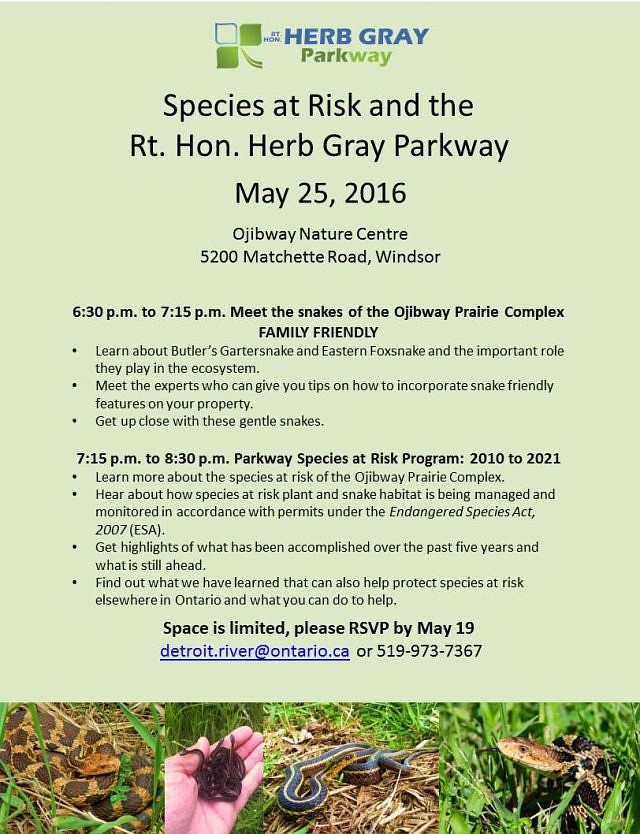 6:30 p.m. to 7:15 p.m. Meet the snakes of the Ojibway Prairie Complex
FAMILY FRIENDLY
•Learn about Butler's Gartersnake and Eastern Foxsnake and the important role they play in the ecosystem.
•Meet the experts who can give you tips on how to incorporate snake friendly features on your property.
•Get up close with these gentle snakes.
7:15 p.m. to 8:30 p.m. Parkway Species at Risk Program: 2010 to 2021
•Learn more about the species at risk of the Ojibway Prairie Complex.
•Hear about how species at risk plant and snake habitat is being managed and monitored in accordance with permits under the Endangered Species Act, 2007 (ESA).
•Get highlights of what has been accomplished over the past five years and what is still ahead.
•Find out what we have learned that can also help protect species at risk elsewhere in Ontario and what you can do to help.
Space is limited, please RSVP by May 19
[email protected] or 519-973-7367
Location
Ojibway Nature Centre
5200 Machette Road
Windsor, Ontario