Date
Tuesday December 22nd, 2015
Time
7:00pm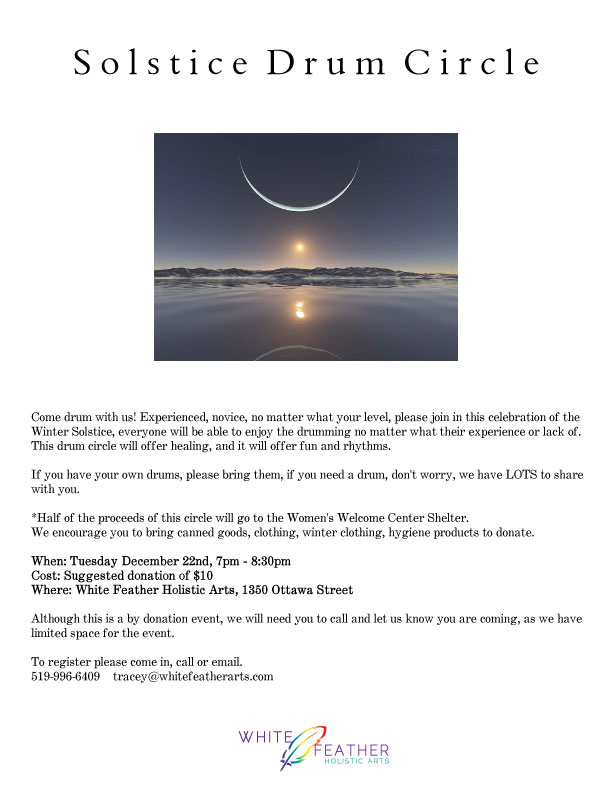 Solstice Drum Circle
facilitated by Tracey Rogers
guest, Nelson Ing – The Drum Doctor
Come drum with us! Experienced, novice, no matter what your level, please join in this celebration of the Winter Solstice, everyone will be able to enjoy the drumming no matter what their experience or lack of. This drum circle will offer healing, and it will offer fun and rhythms.
If you have your own drums, please bring them, if you need a drum, don't worry, we have LOTS to share with you.
*Half of the proceeds of this circle will go to the Women's Welcome Center Shelter.
We encourage you to bring canned goods, clothing, winter clothing, hygiene products to donate.
When: Tuesday December 22nd, 7pm – 8:30pm
Cost: Suggested donation of $10
Where: White Feather Holistic Arts, 1350 Ottawa Street
Although this is a by donation event, we will need you to call and let us know you are coming, as we have limited space for the event.
To register please come in, call or email.
519-996-6409 [email protected]
POSTS
Location
White Feather Holistic Arts
1350 Ottawa Street
Windsor, Ontario