Date
Saturday October 3rd, 2015
Time
See Description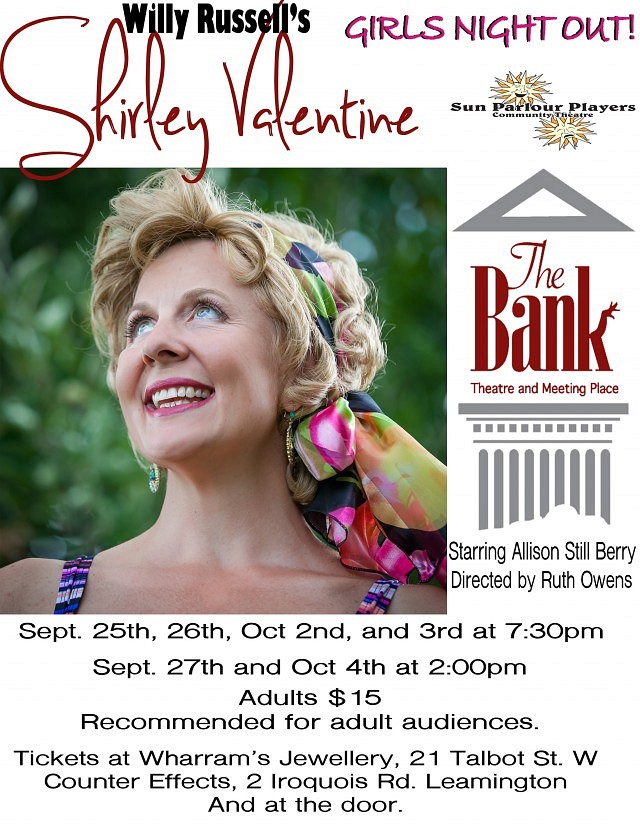 Shirley Valentine, a 42-year-old put-upon mother and housewife packs her bags and heads for the sun. The note on the kitchen table reads "Gone to Greece, back in two weeks."
This is an original one-women show upon which the movie was based. Allison Still-Berry is terrific as Shirley.
Hope you will join us for a "Girl's Night Out" at the Bank Theatre and Meeting Place, 10 Erie Street South, Leamington.
September 25th, 26th, October 2nd and 3rd at 7:30 pm.
September 27th and October 4th at 2:00 pm.
Tickets are $15. available at Wharram's Jewellery, 21 Talbot Street West or at Counter Effects, 2 Iroquois Road in Leamington or at the door.
Telephone: 519-326-8805
Email: [email protected]
RECOMMENDED FOR AN ADULT AUDIENCE
Location
The Bank Theatre and Meeting Place
10 Erie Street South
Leamington, Ontario