Date
Saturday October 31st, 2015
Time
9:00am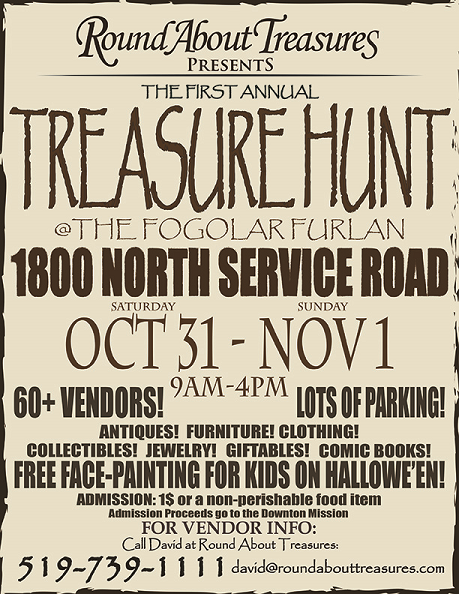 Come One Come All!!! There's a Treasure Hunt at the Fogolar Furlan Club of Windsor Oct 31st and Nov 1st between 9am-4pm both days!!! Round About Treasures is bringing the Treasures to YOU!!! We are taking over the Fogolar Main Hall To bring you 63 Vendors Selling All Sorts of Stuff!!! Get a Jump on Your Holiday Shopping!!!
Do You or Your Childern need their Faces Painted for Hollwe'en??? Ted Paints Faces will be there Oct 31st from 9am-4pm Painting Faces For FREE!!!
Check Out Our Facebook Page for More information https://www.facebook.com/events/1657801004359970/
There is an admission fee of $1 or 1 non-perishable food item per person. All Proceeds will be going to the DownTown Mission.
Lots of Parking, and Lot of Treasures! See Y'Around!
Location
Fogolar Furlan Club
1800 North Service Road
Windsor, Ontario