Date
Friday November 28th, 2014
Time
7:00pm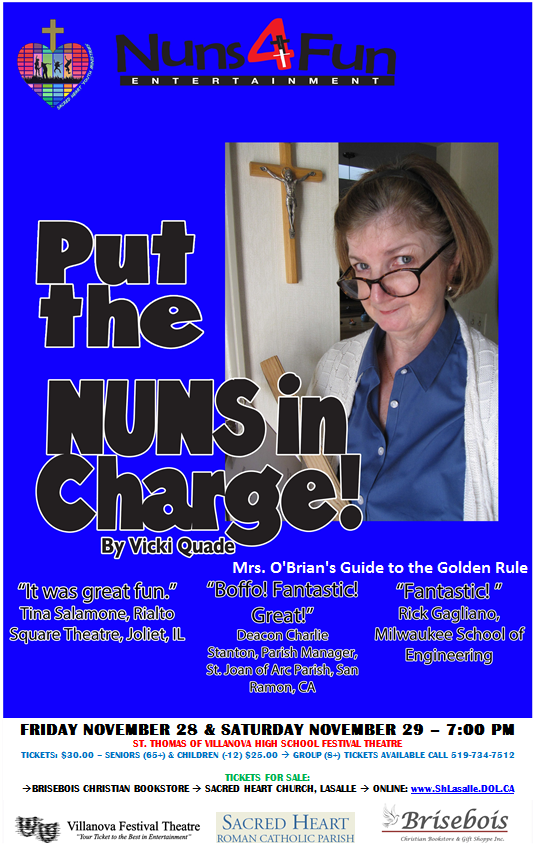 Sacred Heart Church Youth Ministry is pleased to present this hilarious show that will make you laugh so hard, it ought to be a sin! Mrs. Mary Margaret O'Brien gives her own take on the Golden Rule and has something to say on everything from skirt lengths to cell phones. The Seven Deadly Sins get their turn in the spotlight as Mrs. O'Brien shows how they apply to modern-day behavior!
SYNOPSIS
Meet Mrs. Mary Margaret O'Brien. She's been heading the Archdiocese's fundraising department, but now the Archdiocese has a new cable TV station: WGOD. And so Mary has a new calling: host of her own show! She calls it: Mrs. O'Brien's Guide to Everything.
Mrs. O'Brien. A Cable Show. A Lotta Attitude. More laughs than you can stand!
"Experience the delicious shock of recognition when you return to the classroom of your youth," — Pioneer Press
Friday, November 28th & Saturday, November 29th
St. Thomas of Villanova Festival Theatre
Doors Open at 6:30 pm Show Begins at 7:00 pm
General Admission. $30 per person. Seniors/children rate $25.00
***GROUP TICKETS PRICING AVAILABLE for 8 or more people. Contact 519-734-7512 for Group Tickets.
TICKETS ALSO AVAILABLE AT BRISEBOIS CHRISTIAN BOOKSTORE & SACRED HEART CHURCH OFFICE
Location
St. Thomas of Villanova Festival Theatre
2800 North Townline
LaSalle, Ontario