Date
Saturday November 16th, 2013
Time
2:00pm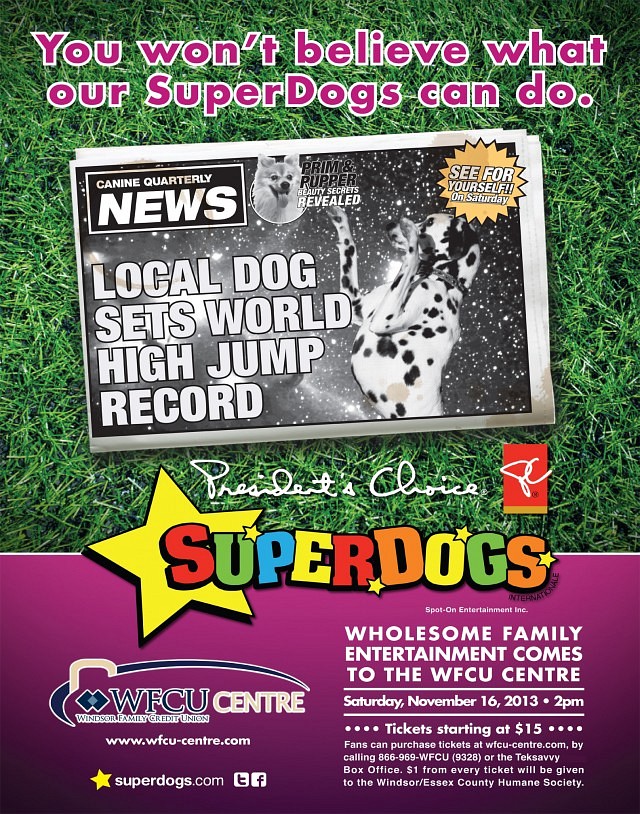 President's Choice SuperDogs will wow Windsorites with their amazing new show "Wild Wild Woof" at the WFCU Centre on Saturday November 16 at 2:00pm. President's Choice SuperDogs "Wild Wild Woof" is a no-holds-barred celebration of country music and exciting new games that will have the entire family hootin' and hollerin'. President's Choice SuperDogs features specialized trainers with their own personal dogs as they perform jaw dropping tricks, jump, leap, dance, play Frisbee and weave through obstacle courses and warm hearts at the same time all to contemporary Country hits.
As up to 40% of President's Choice SuperDogs have been adopted from animal shelters, the show and WFCU Centre facility management company Global Spectrum have teamed up with the Windsor/Essex County Humane Society in order to contribute $1 for every ticket sold to the Humane Society.
For the past four decades, The President's Choice SuperDogs have entertained over 25 million people with the most original family oriented live shows around, and it just keeps getting better. Fast paced, interactive, heart-warming and hilarious, experience the fun of these canine dynamos in their incredible new production, Wild Wild Woof.
Location
WFCU Centre
8787 McHugh Street
Windsor, Ontario