Date
Saturday June 28th, 2014
Time
10:30am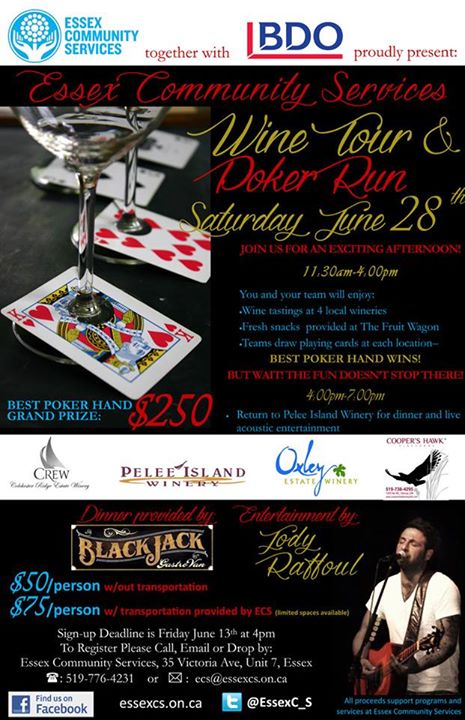 We are very pleased to announce a new fundraiser "The ECS Winery Tour & Poker Run" on June 28th, to raise funds to help support the programs we currently offer our community. Teams will compete in a Poker Run, where they will get a card and at each of the 5 planned stops the cards will be stamped. Participating destinations include; Pelee Island Winery, Cooper's Hawk Vineyards, Colchester Ridge Estate Winery, Oxley Estate Winery and The Fruit Wagon. There will also be a snack provide for each person at one of the stops listed above.
All teams will finish at our host venue, Pelee Island Winery, where they will hand in their cards in and will be able to choose 5 poker cards. Each team/person will have the opportunity to discard up to 2 cards after they pick their hand. The cost will be $5 per card. The team compiling the best poker hand will be awarded a cash prize of $250. There will be a 2nd and 3rd place prize also.
Teams will be treated to full food service by BlackJack's GastroVan and entertainment by local artist Jody Raffoul. All of this is included in the cost below
Price: $50 per person with own transportation OR $75 per person if wanting transportation provided.
Registration
Our office is located at 35 Victoria Ave, Unit 7, Essex Ontario.
All Teams must register and payment must be received before the deadline Friday, June 13th at 4pm. Teams captain will be contacted and receive a team package after the deadline containing all supplies for team members, food vouchers and a map of their travel route or transport pick up time.
DOWNLOAD REGISTRATION FORM
Cash or Cheques made payable to Essex Community Services
Registration forms are available at the office or online at our Facebook page or our website at essexcs.on.ca
Please call our office for any questions or details by phone at 519.776.4231. For more information please email Matt Kraus [email protected]
Transportation
Teams can either drive together or Essex Community Services will provide bus transportation (Spaces Limited) which can be registered for upon sign up. We ask that all team members meet at 1 location for pick up, to ensure time schedules are maintained
Teams
We ask for a minimum of 4, but we encourage teams of any size (may not be able to accommodate all members of a team on the same bus). Each participant will wear a wristband to identify our event, which will allow a tasting at each of the wineries. We will also be providing a snack plate to each participant at The Fruit Wagon stop.
Location
Pelee Island Winery
455 Seacliff Drive
Kingsville, Ontario