Date
Sunday November 22nd, 2015
Time
6:30pm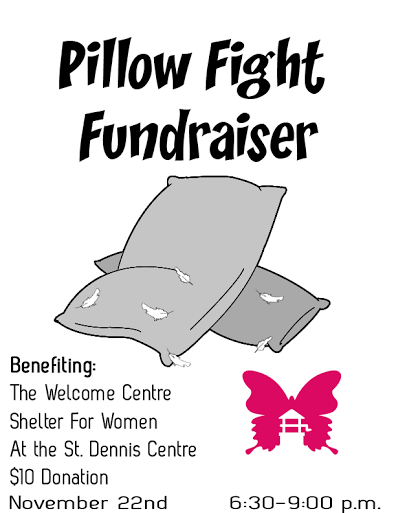 University of Windsor students are hosting Windsor's first ever pillow fight, raising money for The Welcome Centre Shelter for Women. A course required project, a team of 6 students are looking for support through fundraising or donations to auction off at the event. Any type of media exposure of the event is greatly appreciated.
The event will be held within the St. Dennis Centre on the University of Windsor campus, 255 College Ave, on Sunday November 22nd, 2015, from 6:30pm to 9:00pm. Attendance costs include a $10 donation, of which covers the cost of pillows and the rest donated to the Welcome Centre Shelter For Women. A safety waiver form is required to participate, making this event 18 years and older.
Our event is looking to raise money for the shelter to be able to provide beds for women and their children in need, as well as the food bank which has helped feed over 900 families.
The Welcome Centre Shelter for Women was established in 1989 and provides emergency shelter to women experiencing homelessness. The Welcome Centre offers programming to women 18 years of age or over to assist in ending the cycle of homelessness, poverty and violence.
Location
St. Dennis Centre, University of Windsor
2555 College Avenue
Windsor, Ontario