Date
Sunday January 17th, 2016
Time
12:30pm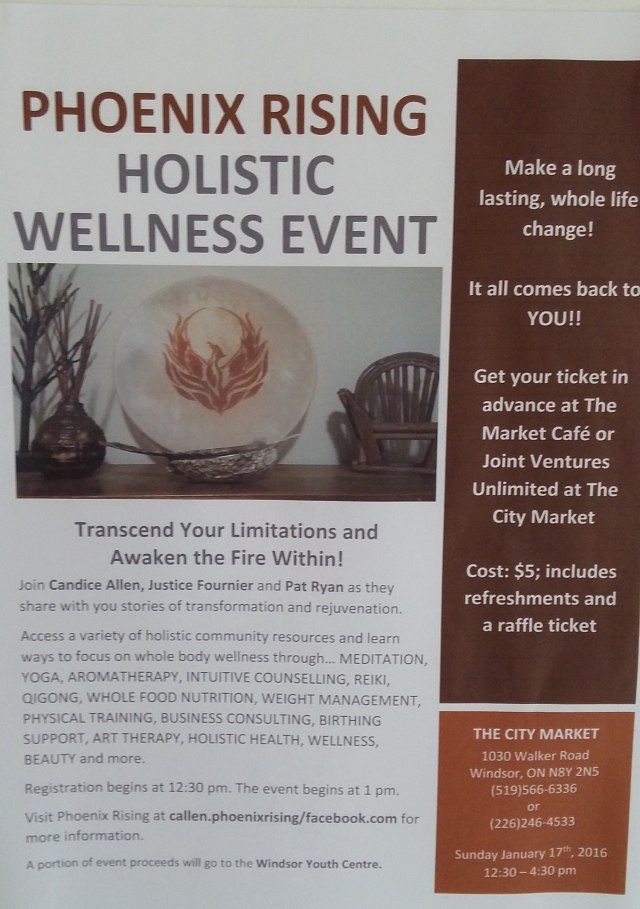 The Phoenix Rising: Holistic Wellness Event offers an opportunity to learn how to apply a variety of alternative health measures to your life for increased vitality and personal growth.
Hear stories of transformation from three guest speakers and visit with fourteen different holistic vendors from the community.
The message that "It all comes back to you!" is the essence of the event. What can you do in your life to increase your level of happiness, success and fulfillment?
Methods such as MEDITATION, REIKI, and ESSENTIAL OILS to BUSINESS SOLUTIONS, PHYSICAL TRAINING and WHOLE FOOD NUTRITION are just a few of the many additions you can bring into your life today!
Registration for the event will begin at 12:30 pm. The event will begin at 1 pm and finish at 4:30 pm. Refreshments are included in the cost of your ticket along with a raffle ticket. Maybe you can win a chance to try out one of the services/products featured at the event.
Please visit callen.phoenixrising/facebook.com for more details
A portion of the proceeds will be donated to the Windsor Youth Centre which is a local drop in centre for homeless and at-risk teens. Opportunities to make an additional donation at the door will be made available.
Location
The City Market
1030 Walker Road
Windsor, Ontario